Russia loses to Sweden 1-2 in opening match of 2016 World Cup of Hockey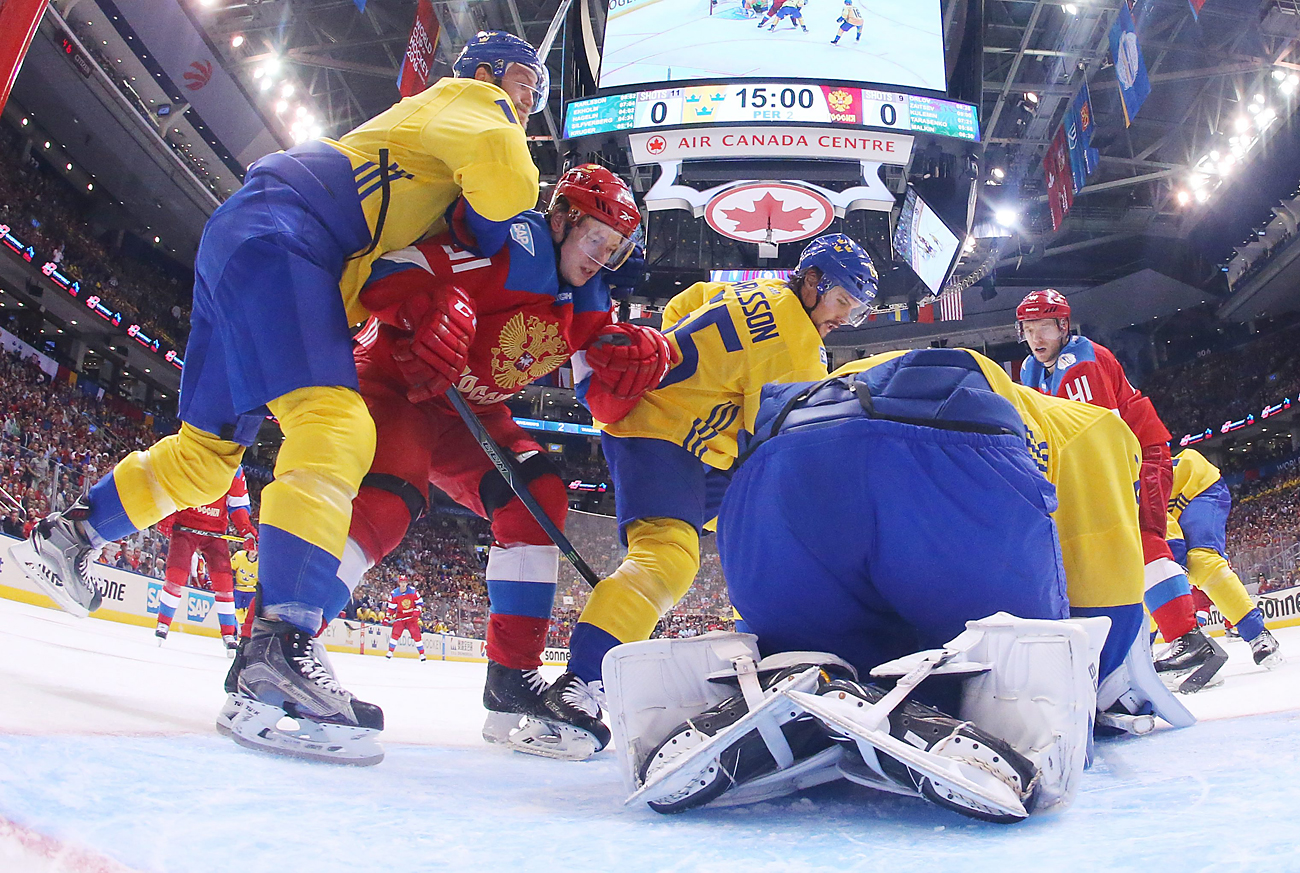 Sweden's Mattias Ekholm, left, Erik Karlsson, center, and goalie Jacob Markstrom, right, battle with Russia's Vladimir Tarasenko, second from right, during second period World Cup of Hockey action in Toronto, Sept. 18, 2016.
AP
The Russian squad is now scheduled to face Team North America
The Russian national ice hockey team on Sept. 18 lost to Sweden 1-2 in its first game of the 2016 World Cup of Hockey, which kicked off in Canada's Toronto on Sept. 17.
Sweden was more active in the goal area of the Russian squad and the teams also had the chance of playing in majority on the power-plays, but the opening period remained scoreless, as they retreated to their locker rooms.
Tre Kronor unsealed the score on the 11th minute in the middle period with left wing Gabriel Landeskog shooting the puck past Russian goalkeeper Sergei Bobrovsky to take the lead of 1-0 over the Red Machine.
Inspired with the first goal, some two minutes later defenseman Victor Hedman back-slapped another puck past Bobrovsky to increase the Swedish team's advantage over the Russians. The score of 2-0 remained unchanged until the third period.
With less a minute remaining in the closing period, Russia's Head Coach Oleg Znarok decided in favor of the sixth field player leaving the empty net of the goal and team's captain Alexander Ovechkin cannoned a goal to bring the score to 1-2.
The Russian squad is now scheduled to face Team North America on Monday and will then clash with Finland on Sept. 22.
Source: TASS
All rights reserved by Rossiyskaya Gazeta.