Sudan to get 170 Russian T-72 tanks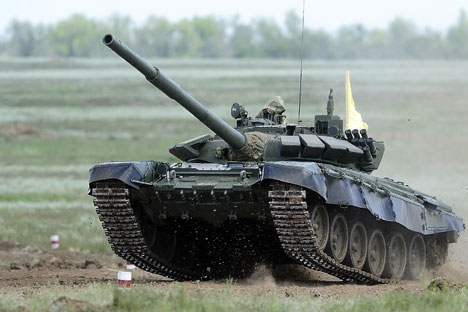 T-72 at the tank biathlon, 2014.
TASS
Khartoum will receive 150 stored T-72s and 20 tanks to be cannibalized
Russia will export 170 T-72 main battle tanks (MBT) to Sudan, according to the Izvestia newspaper.
Moscow and Khartoum have already agreed the delivery of the MBTs. Therefore, Sudan is planned to receive 150 T-72 tanks at an early date. The remaining 20 MBTs are supposed to be delivered as a source of spare parts for the main batch of the vehicles. Khartoum will get the excess T-72 MBTs, Izvestia said. The relevant works on the preparation of the combat vehicles delivery to Sudan have already started, a source in the Russian Ministry of Defense (MoD) told the newspaper.
"[Moscow and Khartoum - TASS] have been discussing the issue [the delivery of tanks - TASS] since 2011; the final agreement was reached at the Army 2016 military-technical forum held outside Moscow in September 2016. Therefore, [Russia] is planning to deliver 170 excess T-72 tanks to Sudan," the source told Izvestia.
According to him, Khartoum will receive 150 stored T-72s and 20 tanks to be cannibalized. "The MBTs to be delivered to Sudan will be combat-ready. However, [Khartoum] decided to acquire an early variant of T-72 not armed with anti-tank guided missiles [ATGM]," the source said.
The T-72AV tank is a variant of the basic T-72A MBT equipped with the Kontakt-1 explosive reactive armour (ERA) developed by NII Stali (now a subsidiary of the Tractor Plants Concern). The tank is armed with a 125 mm 2A46M smoothbore gun, a 7.62 mm Kalashnikov PKT coaxial machinegun, and a 12.7 mm NSVT roof-mounted anti-aircraft (AA) heavy machinegun.
According to the Military Balance 2016 report issued by the International Institute for Strategic Studies, the Sudanese Armed Forces operate 465 tanks, including 20 M60A3, 60 Type 59/Type 59D, 305 T-54/55, 70 T-72M1, and 10 Type 85-IIM.
Source: TASS
All rights reserved by Rossiyskaya Gazeta.