Foreign Ministry hopes Almaz-Antey data will shed light on MH17 disaster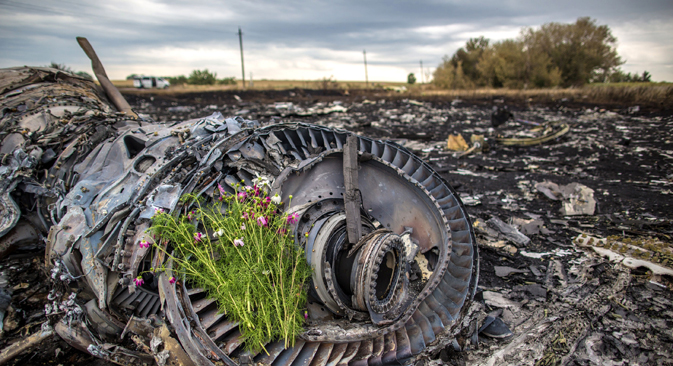 The Malaysia Airlines Boeing 777-200ER aircraft was on its way from Amsterdam to Kuala Lumpur when it was shot down over Ukraine's eastern Donetsk region on July 17, 2014.
Andrei Stenin/RIA Novosti
The concern said it shared with Russia's investigators some data on MH17
Russian Foreign Ministry spokeswoman Maria Zakharova hopes that the primary radar data obtained from Russian arms manufacturer Almaz-Antey showing the air traffic situation in the area where the ill-fated Flight MH17 was shot down over eastern Ukraine on July 17, 2014 will help to shed light on the circumstances of the disaster.
"While the Ukrainian president was deciding the future of Syria at the UN Security Council session the website of the Almaz-Antey concern published a news release saying it has shared with Russia's investigative authorities some data regarding the air traffic situation in the area of where the Malaysian Boeing was lost," said Zakharova on her Facebook page.
"As far as I understand, the radar information in question is precisely what the relatives of the disaster's victims have been waiting for so long. Hopefully, this data will shed light on the circumstances of the Malaysian plane's crash," Zakharova said.
As follows from the news release published earlier, in July 2016, after an official query from the Investigative Committee the concern's head office asked all affiliates to share all relevant information at their disposal. The electrical engineering plant AO NPO LEMZ was one of those asked to look into its data archives.
"The plant's specialists scrutinized all archive data kept in store for the purpose of monitoring the quality of air traffic control radars to find information dated July 17, 2014 that may prove of interest to the investigators: namely, primary, unprocessed radar images of the airspace," reads the Almaz-Antey press release.
"Currently all primary radar information available from AO NPO LEMZ has been handed over to the Russian authorities concerned for further examination and subsequent handover to the Dutch side," it says.
Source: TASS
All rights reserved by Rossiyskaya Gazeta.