Hollywood star Steven Seagal goes bear watching in Russia's Far East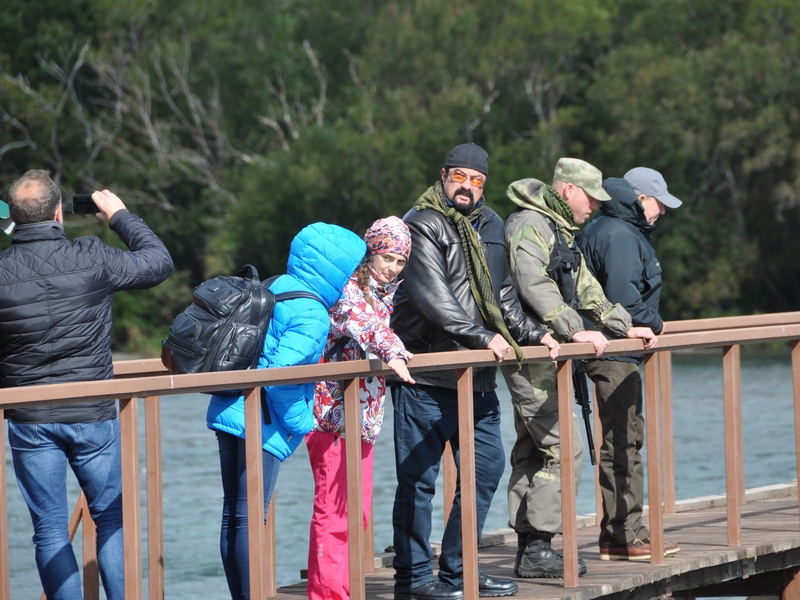 Steven Seagal visited the Kronotsky National Park.
Tatiana Gulbina / Kamgov.ru
Actor visited the Kronotsky National Park in the Kamchatka Peninsula
Hollywood star Steven Seagal has visited the Kronotsky National Park on the Kamchatka Peninsula to watch wild bears and erupting geysers. During his stay in the national park he visited three sights: Lake Kuril, the Valley of Geysers and the caldera of the Uzon volcano, the Kronotsky Nature Reserve's press secretary Maria Vorontsova told TASS.
"Steven Seagal spent a few hours at each of these sights. His visit to the national park came as a surprise to the inspectors and to the tourists as well. While having a short break at Lake Kuril the actor played guitar, much to the astonishment of the park's staff, who now have no doubt that this man of talent has indeed many gifts," Vorontsova said.
Source: Tatiana Gulbina / Kamgov.ru
During the national park tour, the staff told Seagal about the life of brown bears and the steps for their protection in the wild. The actor had already seen brown bears while shooting at a location in Alaska but he was surprised that the bear families in Kamchatka often have up to four or five cubs at a time.
The staff also demonstrated how the protection system in the national park operated. In turn, Seagal told the inspectors about the obvious efficiency of the unmanned aircraft that U.S. rangers use.
"The main task of the rangers is to catch poachers in time, who penetrate the protected territory, and prevent any crime against nature. Drones are indeed effective as far as these activities go," said Seagal.
Source: Tatiana Gulbina / Kamgov.ru
According to the senior state security inspector of the Kronotsky Nature Reserve Alexander Bondar, the park's staff will soon receive some drones. But before they can start using them they will have to be retrained so they are able to operate the quadcopters in the mountainous areas that occupy a large part of the national park.
The inspectors gave Seagal a national park security staff's uniform cap for a souvenir. The Hollywood star left Kamchatka on Sept. 21.
Source: TASS
All rights reserved by Rossiyskaya Gazeta.