Shinzo Abe calls for enhanced cooperation with Russia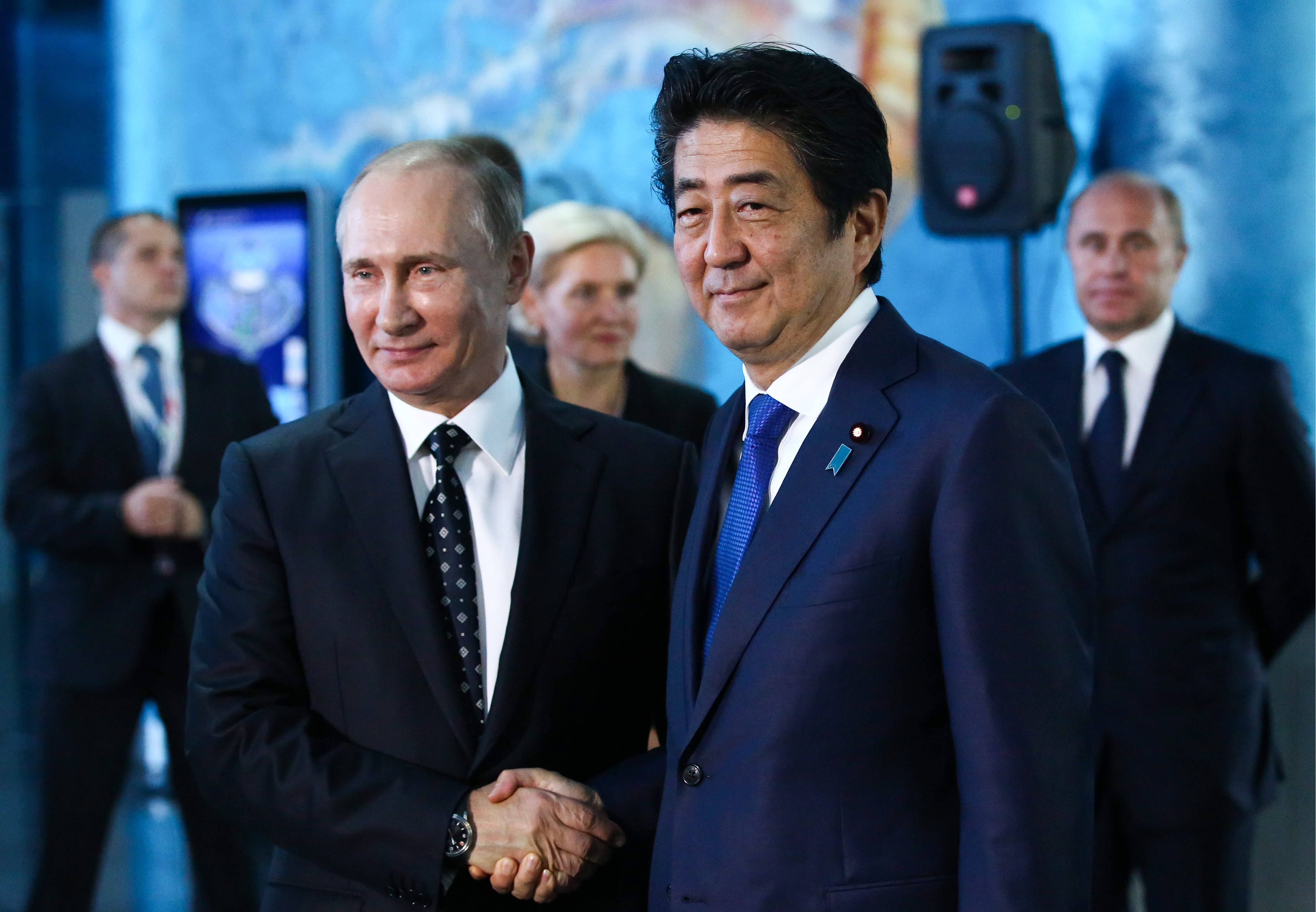 Russian President Vladimir Putin and Japanese Prime Minister Shinzo Abe at the Eastern Economic Forum in the Russian city of Vladivostok.
Alexandr Rumin/TASS
Abe also bats for better ties with China and South Korea
Japan's Prime Minister Shinzo Abe told the lower house of parliament on Sept. 26 he expects to resolve the long-running territorial dispute with Russia and enhance bilateral cooperation.
"This month I held my 14th meeting with Russian President Vladimir Putin. By solving the territorial issue we will put an end to the abnormal situation when our countries don't have a peace treaty after 71 years after the end of the war," Abe told a plenary session announcing his program.
This will open great possibilities for the Japanese-Russian cooperation in the economic, energy and other areas, he added. "The visit of Russia's president to Japan this year will allow us to advance talks based on the leading role of the heads of our countries."
Abe also stressed that the alliance with the United States is the basis for Japan's foreign policy and ensuring its security. The prime minister also stressed that he plans to improve relations with China and deepen cooperation with South Korea, calling it "an important neighbor."
Russia and Japan have not yet signed a World War II peace treaty. The settlement of the problem, inherited from the Soviet Union, is hampered by the dispute over the Southern Kuril Islands of Shikotan, Habomai archipelago, Iturup and Kunashir, which Japan calls its "Northern Territories."
In the final stages of World War II, the USSR seized the islands, and in February 1946, the Kuril Islands were declared territories of the Soviet Union. In 1956, the USSR and Japan signed a Joint Declaration re-establishing bilateral diplomatic, trade and other kinds of relations. According to the document ratified by both countries' parliaments, the USSR unilaterally expressed readiness to return Shikotan and Habomai as a gesture of goodwill, but only after signing a peace treaty. This deal was rejected by Japan that, in the context of the Cold War, claimed the Kunashir and Iturup islands as well.
In early September, Putin and Abe met in Russia's Vladivostok during the Eastern Economic Forum (EEF) and agreed to step up bilateral talks. They decided to meet in Peru at the Asia-Pacific Economic Cooperation (APEC) summit in November. In December, the Russian leader is expected to pay a visit to Japan.
Source: TASS
All rights reserved by Rossiyskaya Gazeta.