Russia cancels arrest of 2 Bolotnaya riots suspects in ECHR court's ruling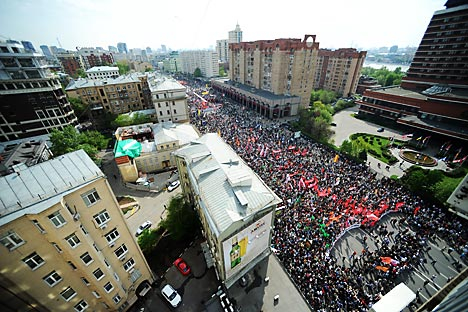 The mass rally in Central Moscow, May 6, 2012.
RIA Novosti / Vladimir Pesnya
The Supreme Court recognizes as illegal arrest of Gushchin and Savelov
Russia's Supreme Court has honored the ruling by the European Court for Human Rights (ECHR) and recognized as illegal the arrest and imprisonment of Ilya Gushchin and Artyom Savelov, the suspects in the 2012 Bolotnaya Square mass riots, a TASS correspondent reports from the court.
"To cancel the ruling by the Basmanny District Court of Aug. 9, 2012 and all subsequent judicial resolutions," the judge read out the judgment.
The ECHR passed its first ruling on the Bolotnaya Square case on Sept. 17, 2015, recognizing that the rights of three convicted persons had been violated and obliging Russia to pay Savelov 3,000 euros, Leonid Kovyazin and Gushchin 2,000 euros each. Also, under the Russian legislation, this ruling served as the basis for a review of the Russian court's decision.
Moscow's Zamoskvoretsky Court ruled on Feb. 24, 2014 to impose punishment on 8 suspects of the Bolotnaya Square case ranging from a suspended sentence of 3 years and 3 months to a real prison term of 4 years.
By now, Gushchin and Savelov have already served their sentences.
The criminal case in mass riots on Bolotnaya Square mass riots and resistance to police was opened after the May 6, 2012 events. An opposition rally permitted by the authorities turned into clashes with the police and mass riots, in which over 30 police officers were hurt and several dozen people were injured.
More than 400 people were detained for unlawful acts. Russia's Investigative Committee opened a criminal case under part 3, article 212 ("Mass Riots") and part 1, article 318 ("Violence against a Representative of Authorities") of Russia's Criminal Code.
Source: TASS
All rights reserved by Rossiyskaya Gazeta.