Putin signs decree on National Guard, appoints its 7 deputy directors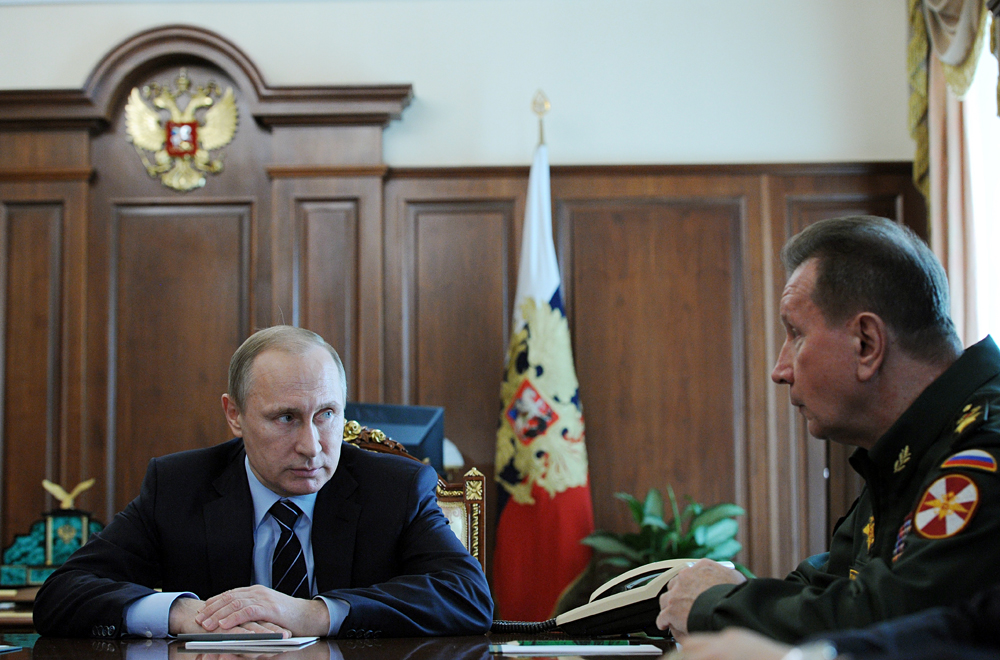 President Vladimir Putin and Russian Internal Troops commander Viktor Zolotov during a meeting at Moscow's Kremlin, April 5, 2016.
Mikhail Klimentyev/Russian Presidential Press and Information Office/TASS
Russian National Guard to assess antiterrorist protections of facilities
Russian President Vladimir Putin in his decree on the Russian National Guard allowed the force to have seven deputy directors and introduced a number of other positions. The decree has been published on the governmental legal information website.
"The statute of the Federal Service of the Forces of the National Guard of the Russian Federation attached hereinafter shall be hereby approved," the decree says.
According to the decree, the president has authorized the National Guard director to have seven deputies, including first deputy director, chief of staff/first deputy director and state secretary/deputy director.
By the same decree, Putin has determined that there should be introduced military positions under the Russian law on military service, positions for personnel of police ranks under the Russian Interior Ministry law, federal civil servant positions under the Russian law on civil service, and employee positions under the Russian labor law.
The Russian National Guard has been granted the powers to conduct expert assessment of the antiterrorist protections of facilities, according to the statute of the Russian National Guard.
"…Shall organize and support the participation of the National Guard in expert examination of the antiterrorist protection and security of the facilities it guards," the document says.
According to the statute, the National Guard shall participate in devising the air security measures for civil aviation within its scope. The powers of the service shall include the devising and implementing of governmental programs within its remit and the drafting of defense procurement program proposals.
Source: TASS
All rights reserved by Rossiyskaya Gazeta.