Russia may reopen foreign bases in Cuba and Vietnam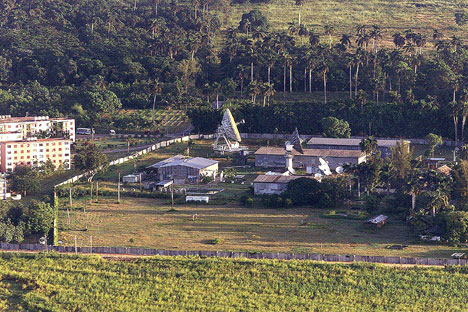 The radio intelligence center at Lourdes began operating in 1967, first under the Soviet Union, then Russia, and continued functioning until 2001.
AFP / East News
'We are working on this,' says Russian military official
Russia's Defense Ministry is considering the option to reopen military bases in countries that hosted them during Soviet times, Deputy Defense Minister Nikolai Pankov has told State Duma legislators.
"We are working on this, we do see this problem," he said in response to a question about whether the military authority planned to reopen bases in countries like Vietnam or Cuba.
Earlier, Defense Minister Sergei Shoigu said Russian plans to develop military bases abroad, including in Kyrgyzstan, Tajikistan, and Armenia.
Russian President Vladimir Putin said in summer 2014 that Moscow had no plans to restore its Lourdes base in Cuba.
On Oct. 7, the Russian State Duma considers ratification of an agreement on termless deployment of the Russian air grouping in Syria. The document was signed on Aug. 26, 2015 in Damascus, and on Aug. 9, 2016, President Vladimir Putin presented it to the parliament's lower house for further consideration.
Source: TASS
All rights reserved by Rossiyskaya Gazeta.