Crimean Simferopol and Italian Padua become sister cities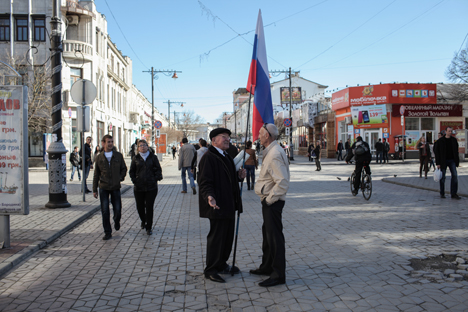 At the moment, Simferopol has sister relations with 11 cities.
Sergei Savostyanov / RG
Italian delegation of businessmen and parliamentarians visits Crimea
Crimea's capital city Simferopol and Italian Padua have become sister cities with a memorandum on sister city relations signed in Simferopol on Oct. 14.
Marina Buffoni, member of Italian city's executive council, said the cities have similar cultures and history, and the memorandum will help advance economic partnership.
Buffoni signed the memorandum together with the head of the Simferopol city council, Viktor Ageyev. Members of the delegation of Italian business people and parliamentarians marked that the memorandum "will open doors" to establishing twin-city relations between other Crimean and Italian cities.
At the moment, Simferopol has sister relations with 11 cities - Donetsk in Ukraine's self-proclaimed Donetsk People's Republic, Russia's Irkutsk, Novocherkassk, Omsk, Moscow's South-Western Administrative District, Hungarian Kecskemet, Bulgarian Ruse, U.S. Salem, German Heidelberg, Ukrainian Chernovtsy and Turkish Eskisehir.
A delegation of business people and parliamentarians from five Italian regions (Veneto, Liguria, Lombardia, Tuscany and Emilia-Romagna) arrived in Crimea to discuss partnership and prospects for the lifting of anti-Russian sanctions with regional authorities and business community.
The regional parliaments of these regions adopted resolutions earlier this year calling to recognize Crimea and cancel sanctions against Russia.
Source: TASS
All rights reserved by Rossiyskaya Gazeta.