Belgian air force killed 6 in outskirts of Aleppo, says Russia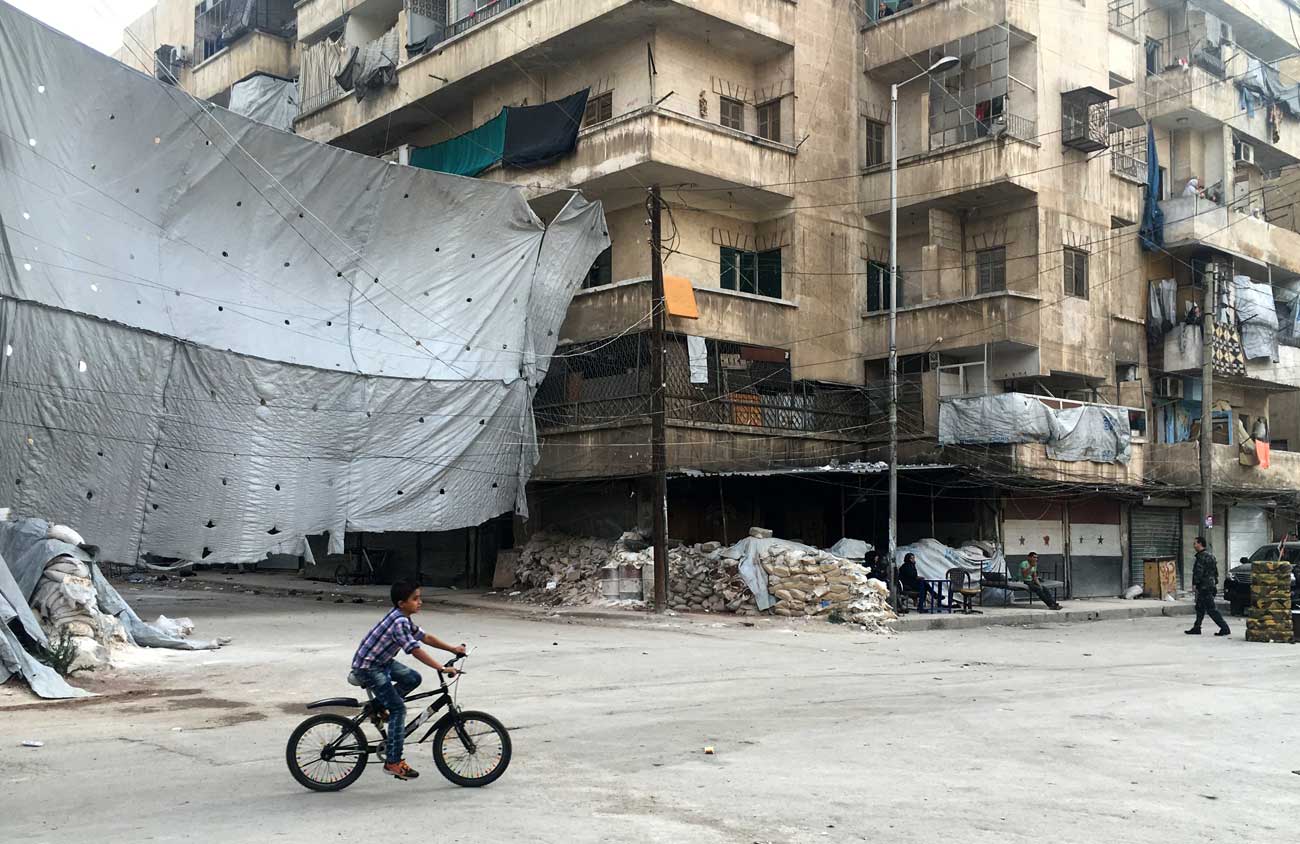 A child near the Bustan al-Qasr checkpoint in eastern Aleppo, where the humanitarian corridor begins for militants who decided to give up their weapons and leave Aleppo.
Michael Alaeddin / RIA Novosti
Defense Ministry: Russian, Syrian radars confirm air strike by warplanes.
Russian and Syrian radar data confirm Belgian warplanes attacked the village of Hassadjek near Aleppo, Russian Defense Ministry spokesman Igor Konashenkov told the media on Oct. 20.
"Russia has at its disposal effective air defense means capable of monitoring the situation in Syria's entire airspace round the clock. Syria's own air defense systems have been restored over the past year and they control the air situation, too," said Konashenkov.
"Later today we will provide information about the flight paths and manoeuvers of Belgian and U.S. warplanes in Syria's airspace on Oct. 18," he said.
According to Konashenkov, air traffic radars identified the take-off of Belgian F-16 planes from the Al-Salti air base in Jordan at 1:34 a.m. Moscow time. The planes entered Syrian airspace at 2:37 a.m. approximately 115 kilometers (70 miles) northeast of Deir ez-Zor.
"While remaining in Syrian airspace the Belgian planes started refueling at 2:52 a.m. in the area of Deir ez-Zor from a U.S. KC-135 tanker plane and then flew northwest… At 3:35 a.m. the planes attacked the Kurdish village of Hassadjek, Aleppo province, killing six and injuring four others. At 4:19 a.m. both Belgian planes carried out refueling from the KC-135 tanker plane and then performed an air patrol mission in the area of Azaz, north of Aleppo," said Konashenkov.
After that, according to Russian military sources, the Belgian plane set course toward Iraq and at 7:25 a.m. left Syrian airspace.
The Russian Center for the Reconciliation of the Warring Sides in Syria reported on Oct. 18 that an air strike against Hassadjek near Aleppo in Syria had killed six and wounded another four. No planes belonging to the Russian or Syrian air forces were in that area at that time. However, Belgian fighter jets were detected.
Belgian Defense Minister Steven Vandeput claimed that the Belgian air force had not delivered any air strikes against civilian facilities near Aleppo on that day.
Since July 2016, the U.S.-led coalition in Syria has been using six F-16 fighter-bombers of the Belgian air force, which as Belgium's Defense Ministry reported earlier, "are performing the entire range of military operations."
Source: TASS
All rights reserved by Rossiyskaya Gazeta.