Fifth Varshavyanka submarine joins Russia's Navy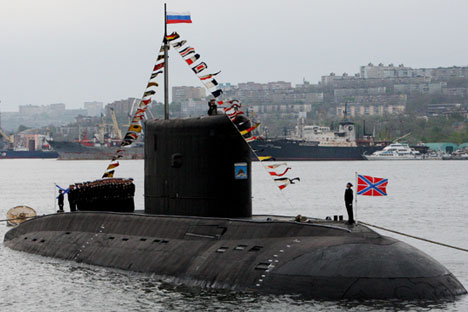 Varshavyanka class diesel submarine at the military parade in Vladivostok to mark the 70th anniversary of Victory in the 1941-1945 Great Patriotic War, 2015.
Ria Novosti/Vitaliy Ankov
Another 6 Varshavyanka subs will be built for the Pacific Fleet
A fifth non-nuclear submarine of project 636.3 The Veliki Novgorod has joined the Russian Navy, a TASS correspondent reports from the flag-hoisting ceremony at the Admiralty Shipyards in St. Petersburg, attended by the Russian Navy's Deputy commander, Vice-Admiral Aleksandr Fedotenkov and the shipyards' CEO Aleksandr Buzakov.
"The Veliki Novgorod submarine has been through all government certification tests. All of the previous submarines in that series built for the Black Sea Fleet have confirmed the expected parameters, too," Buzakov said on Oct. 26.
The Veliki Novgorod is a fifth in the group of six submarines of project 636.3 (Varshavyanka) built for the Black Sea Fleet. The first two - The Novorossiysk and The Rostov-on-Don were delivered in 2014, and another two, The Stary Oskol and The Krasnodar, in 2015. By the end of this year the Russian Navy will have a sixth submarine in the series, The Kolpino. The flag-hoisting ceremony is due November 25.
Another six Varshavyanka subs will be built at the Admiralty shipyards for the Pacific Fleet. The contract was signed at the Army-2016 forum near Moscow. The last submarine in the second group is to be delivered in 2021.
Source: TASS.com
All rights reserved by Rossiyskaya Gazeta.