Prowling Amur tiger nabbed near Vladivostok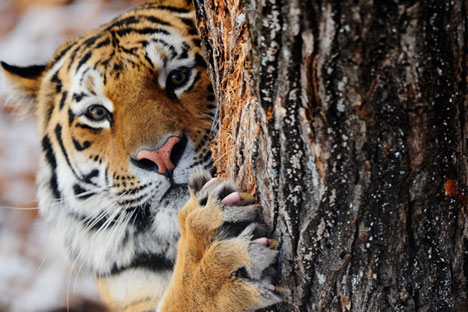 The Amur tiger is on the IUCN Red List of Threatened Species.
Yuri Smityuk/TASS
The tiger is now at the rehabilitation center
A full-grown Amur tiger has been caught near the Russian Far Eastern city of Vladivostok and sent for rehabilitation to a special center. The large feline predator is a male weighing 170 kilograms (roughly 375 pounds) that had killed a cow in the town of Artyom about 40 kilometers from Vladivostok, the Amur Tiger Center's press service reported.
"On the morning of Oct. 26, a resident of the Artyom town suburb reported to the police that a tiger had killed a cow… That same evening a response team from the hunting supervision agency spotted the tiger using an infrared camera. The predator was immediately caught and brought to the Tiger Rehabilitation and Reintroduction Center in the Alekseyevka settlement," the Amur Tiger Center said.
The tiger will stay at the rehabilitation center while experts determine his future. He may be released into the wild in an area far from human settlements but inhabited with enough ungulates (or hoofed mammals). Ecologists had a similar experience last year, when a tiger named Uporny (or 'Persistent') who had been attacking dogs in the Khabarovsk region, was caught and later released into a distant area.
Only a few days ago, another male tiger was caught 20 kilometers away from Vladivostok. The predator not only walked near the city but also entered the city territory. He, too, has been sent to the rehabilitation center. It is a young male tiger weighing 140 kilograms (roughly 308 pounds) who is likely to be released into the wild.
Several weeks ago reports of a tiger were received from Vladivostok's neighboring town of Artyom but the search ended without any success.
The Amur tiger is on the IUCN Red List of Threatened Species. According to the last year's data, at present only 480-540 members of this species live in the wild, with 90 percent of them inhabiting Russia's Far Eastern Primorye and Khabarovsk regions.
Source: TASS.com
All rights reserved by Rossiyskaya Gazeta.