Explosion caused decompression of Russian plane over Sinai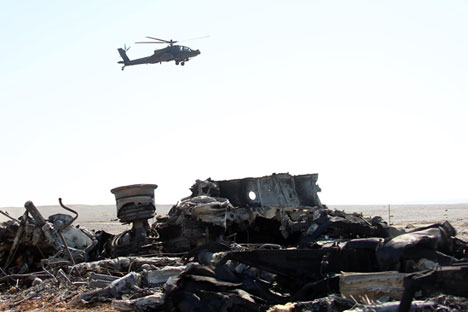 Wreckage of Russian Airbus A321 at the site of the crash in Sinai, Egypt.
AFP / East News
Plane crashed 1 year ago en route from Sharm el-Sheikh to St. Petersburg
Investigators probing the loss of the Kogalymavia passenger airliner over Egypt's Sinai Peninsula on Oct. 31, 2015, have confirmed that the plane's decompression was due to an explosion inside the plane, the press service of the Inter-State Aviation Committee has said.
"The investigation has identified the zone where the plane began to fall apart in the air and confirmed the instance of high-energy elements on the plane's skin from the inside and explosion-related decompression in flight. The analysis of gathered facts is continuing. The plane's fragments for further research have been selected," reads the report.
The committee said the inquiry had earlier collected and analyzed information about the crew, the operation of the plane and the performance of its equipment during the previous flights and the plane's last fatal voyage.
Source: TASS.com
All rights reserved by Rossiyskaya Gazeta.