Russian army gets over 120 thousand Ratnik complexes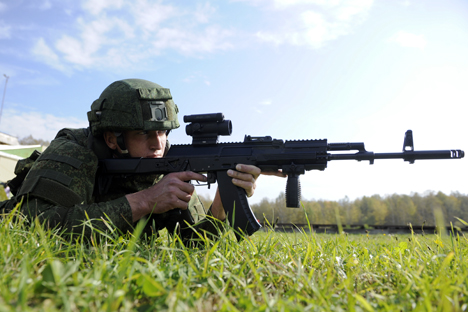 A military man wearing the new combat uniform 'Ratnik' with a Kalashnikov AK-12 assault rifle at a shooting range.
TASS / Sergey Bobylev
Ratnik is a new-generation outfit for the military
The Russian army has so far received over 120 thousand combat Ratnik complexes, Director General of TsNIITOCHMASH Research Institute which designed the outfit Dmitry Semizorov told reporters.
"A control stage of army operation of Ratnik is underway and is to be completed in October 2017. Simultaneously serial supplies to the troops are ongoing. So far over 120 thousand complexes have been delivered," he said.
The Russian Supreme Commander-in-Chief resolved to equip the army with Ratnik at least 70 percent by 2020. Semizorov said there are all conditions to fulfil the task.
He recalled the complex was finally created in 2015 but serial supplies were launched in 2014.
Ratnik is a new-generation outfit for the military. It includes dozens of elements and up to nine weapons. The main Ratnik weapon is the AK-12 Kalashnikov rifle or AEK-971 of the Degtyarev enterprise. The choice of the rifle depends on its cost.
Source: TASS
All rights reserved by Rossiyskaya Gazeta.