Moscow museum holding arts exhibition for visually impaired people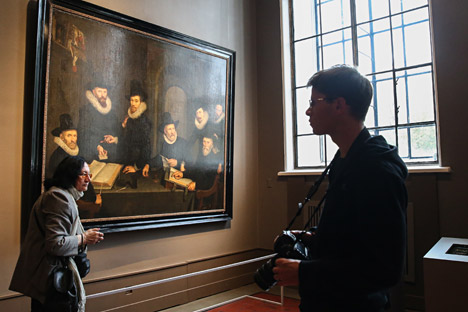 Inside the Pushkin Museum of Fine Arts.
TASS
'To Visualize the Invisible' exhibition held at Pushkin Museum of Fine Arts
An exhibition for visually impaired and sightless people titled 'To Visualize the Invisible' that presents tactile replicas of six masterpieces of West-European painting opened on Nov. 12 at the famed Pushkin Museum of Fine Arts in Moscow.
The exhibition opened on the eve of the date of birth of Valentin Hauy, a Frenchman who founded, in 1784, the Royal Institution for the Young Blind in Paris that the world's first specialized school for sightless people.
The Pushkin Museum developed the project of the exhibition in cooperation with Russia's biggest banking organization, Sberbank. The list of the paintings selected for the exhibition includes 'Annunciation' by Sandro Botticelli, 'The Virgin with Baby Jesus' by Lucas Cranach the Elder, 'The Still Life with Attributes of Art' by Jean-Baptiste Simeon Chardin, 'Jaguar Attacking a Horse' by Henri Rousseau, 'Are You Jealous?' by Paul Gaugin, and 'Old Jew with a Boy' by Pablo Picasso.
Specialists used bas-relief printing to create the replicas of the canvasses and the texture was selected in a way that helped recreate the images to the maximum.
Visitors of the exhibition receive special tinted glasses while entering the display area so that anyone could get a new experience from contacts with art and understand the sensations of visually impaired and sightless people better.
"We're doing everything in our power now to enable as many people as possible - and we have 63,000 people with the impaired visual ability - to visit this display," Russian Deputy Prime Minister Olga Golodets said at the gala opening ceremony.
In the future, the Pushkin Museum plans to organize inclusive provisional exhibitions that would comprise tactile replicas alongside with real paintings.
The exhibition will be open through to February and afterwards the tactile copies will be taken to exhibitions in various parts of Russia.
The Pushkin Museum is currently implementing a specialized program titled 'The Accessible Museum' for people with disabilities.
Source: TASS
All rights reserved by Rossiyskaya Gazeta.