Russia ready to begin fixing relations with U.S. without delay - diplomat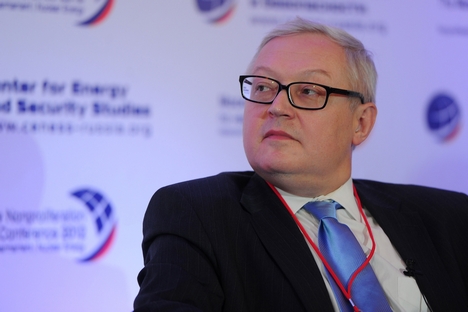 Sergei Ryabkov: 'We shall be judging by deeds, not by signals or promises.'
TASS
'We shall be judging by deeds, not by signals or promises'
Moscow is ready absolutely, without delays, to begin fixing the relations with the U.S., Deputy Foreign Minister Sergei Ryabkov said on Nov. 14 during a meeting at the international affairs committee at the upper house (Federation Council) of the Russian parliament.
High-level statements on the approach to development of relations with the future U.S. administration have been voiced already, he said.
"We shall be judging by deeds, not by signals or promises," he said. "The Russian side is ready, without wasting time, to begin the work to fix the current state of relations with the U.S., which have been taken to a crisis, a deadlock by the outgoing administration."
"We shall structure our work accordingly in the upcoming period," he added.
The diplomat also said the U.S. President-elect Donald Trump from the very first days began actively working on contacts with foreign leaders.
"In our opinion, this proves he pays not simply big interest, but pays very serious attention to this direction," the deputy minister said. "On the other hand, we as yet know only little about his plans or intentional of the future administration in this sphere."
"At the stage of the election campaign, respective signals from Trump or his team were rather limited," he continued. "We have studied closely everything said then on this topic."
In the U.S. system, he said, "election promises and what is stated during the election campaign, and practical policies - make difference, there is a certain gap between them."
Source: TASS
All rights reserved by Rossiyskaya Gazeta.