Putin provided with information on investigation concerning Ulyukayev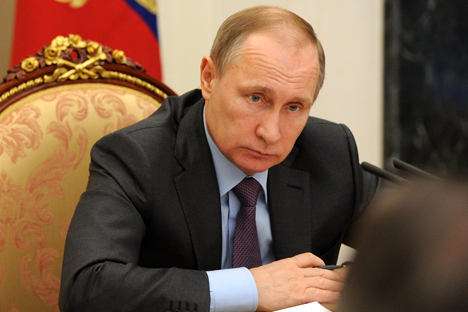 Russian President Vladimir Putin.
Kremlin.ru
'He was given a report when the investigative activities began'
Russian President Vladimir Putin has been provided with all the information on the investigative activities concerning Economic Development Minister Alexei Ulyulayev, detained on suspicion of bribery, Kremlin Spokesman Dmitry Peskov told reporters.
"Certainly, a report (on Ulyukayev's detention) has been given to the president, he is aware of it. He was given a report when the investigative activities began, he has been receiving all the information," Peskov stressed.
The Kremlin spokesman reiterated that the minister was facing very serious accusations. "Only a court has the right to make any decisions concerning these accusations," he added.
Ulyukayev was detained on Nov. 15 on suspicion of receiving $2 million for the positive assessment provided by the ministry that allowed Rosneft to purchase the government's 50 percent of the Bashneft oil company. The investigators plan to bring charges against Ulyukayev soon and apply for a measure of restraint.
Bashneft deal
The Russian government's decree on selling Bashneft's stake was signed on Oct. 10. Two days later Rosneft closed the deal buying 50.08 percent of Bashneft from the state for 329.7 billion rubles ($5.2 billion ). Bashkiria now holds 25 percent plus 1 share in Bashneft.
Among other contenders were the Russian Direct Investment Fund with its partners, Lukoil, Independent Petroleum Company, Antipinsky Refinery, Tatneft, Tatneftegaz and Energy Fund.
Rosneft's participation in the privatization caused much debate. Deputy Prime Minister Arkady Dvorkovich said in late July that Rosneft cannot participate in privatization of oil producer Bashneft because it is indirectly controlled by the government through Rosneftegaz company. Kremlin spokesman Dmitry Peskov said Rosneft was not formally a state company.
Ulyukayev said in August that Rosneft's participation in Bashneft's privatization was inadvisable.
Source: TASS
All rights reserved by Rossiyskaya Gazeta.