Russian minister detained on suspicion of receiving $2 mln bribe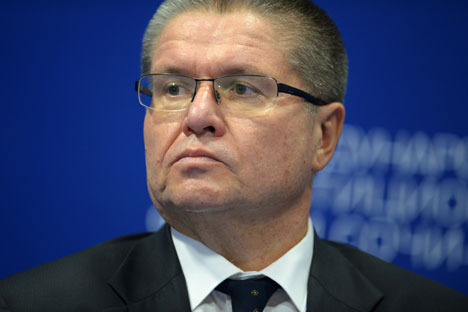 Russian Economic Development Minister Alexei Ulyukayev.
RIA Novosti / Mikhail Mokrushin
Kremlin calls charges against Alexey Ulyukayev 'very serious'
The Russian Investigative Committee has detained Economic Development Minister Alexei Ulyukayev, the committee's spokesperson Svetlana Petrenko told TASS on Nov. 15.
"The circumstances of the crime are connected with Alexei Ulyukayev, who holds a government post in the Russian Federation, receiving $2 million on Nov. 14 for the positive assessment provided by the Economic Development Ministry that allowed Rosneft to complete the deal on purchasing the government's 50 percent stake in Bashneft," Petrenko said.
"The minister has been detained. Investigators plan to indict Alexey Ulyukayev and petition the measure of restraint soon," she added.
The charges against Ulyukayev are very serious, said Kremlin spokesman Dmitry Peskov.
"These are very serious charges that require very serious evidence," Peskov said. "In any case, only the court can decide anything. It is known that the court does not always agree with investigators, and vice versa," he said.
The criminal case was opened against Ulyukayev after the Russian Federal Security Service completed a series of operational activities. The case was opened by the Russian Investigative Committee's main investigative department for investigating particularly important cases.
"The criminal case was opened based on Part 6 of Article 290 of the Russian Criminal Code - receiving a bribe in especially large amounts," said Petrenko.
This article envisages a fine worth from 80 to 100 times the amount of the bribe, with a ban on holding certain positions or engaging in certain activities, or from eight to 15 years in prison, with a fine of 70 times the amount of the bribe or without a fine.
Source: TASS
All rights reserved by Rossiyskaya Gazeta.