St. Petersburg opens first fan-ID center ahead of 2018 FIFA Cup in Russia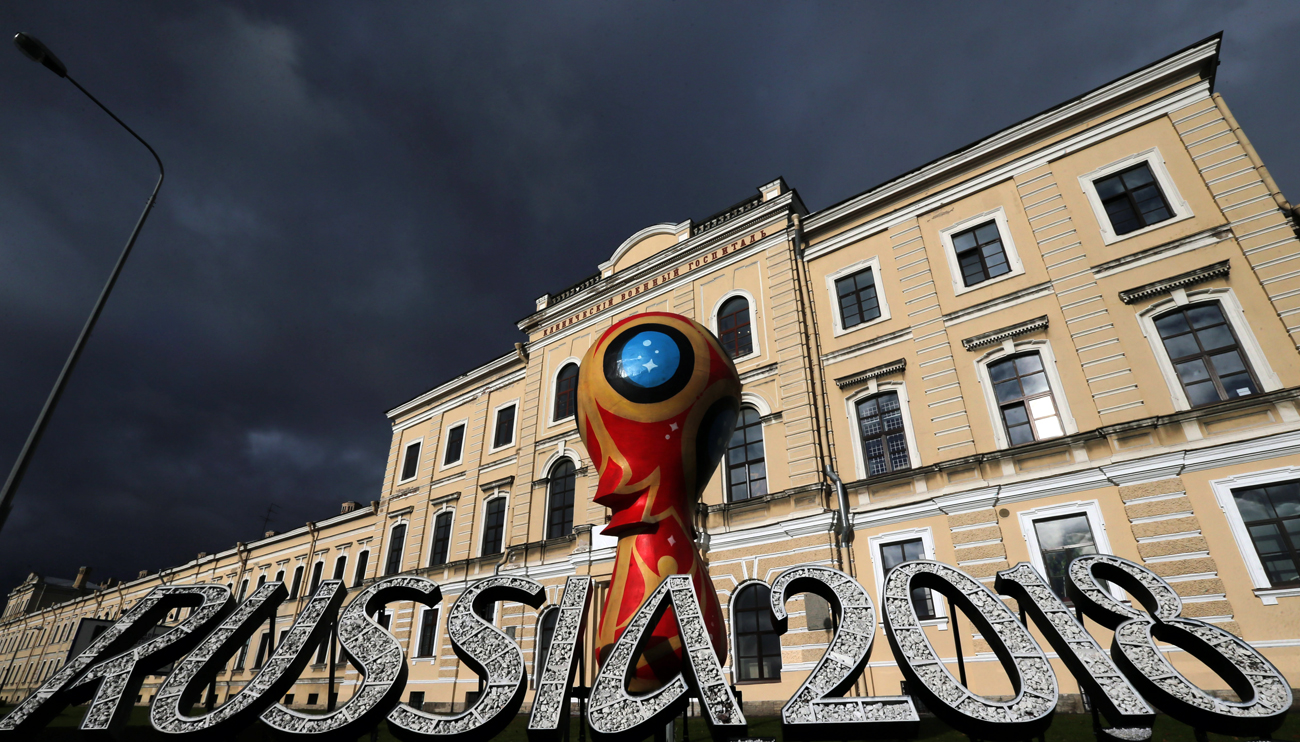 The official emblem of the 2018 FIFA World Cup in Russia installed in Pirogovskaya Embankment.
Alexander Demianchuk / TASS
A holder of the fan-ID will be allowed to enter Russia without visa
Russia's first center for the registration and issuance of fan-IDs for the 2017 FIFA Confederations Cup and the 2018 FIFA World Cup was opened on Dec. 7 in the country's second largest city of St. Petersburg.
The solemn opening ceremony was attended by Russian Deputy Prime Minister Vitaly Mutko, who oversees the issues regarding sports, tourism and youth policies in the country, and Russian Communications Minister Nikolai Nikiforov.
Mutko, who is also the president of the Russian Football Union (RFU) and the chairman of the Russia-2018 Local Organizing Committee (LOC), said the fan-IDs, or sometimes referred to as fans' passports, were already available for the order and can be received starting in February.
Similar centers are set to open soon in three other cities, namely Moscow, Kazan and Sochi, which will be the venues for the 2017 FIFA Confederations Cup matches between June 17 and July 2.
The fan-ID will play an important role in the provision of security during the major football tournaments in Russia as they would be ranting admittance to the stadiums and would also serve as visas for foreign visitors.
A holder of the fan-ID will be allowed to enter the country without having a Russian visa and stay for the duration of the global football tournament as well as for the period of ten days before and after the championship.
In order to clear the country's border a holder of the fan-ID would also have to produce an identification document, a ticket for a match or a document verifying the purchase of a ticket.
Russia selected 11 host cities to be the venues for the matches of the 2018 World Cup and they are Moscow, St. Petersburg, Sochi, Kazan, Saransk, Kaliningrad, Volgograd, Rostov-on-Don, Nizhny Novgorod, Yekaterinburg and Samara.
The matches of the 2018 World Cup will be held between June 14 and July 15 at 12 stadiums located in the 11 mentioned above cities across Russia. Two of the stadiums are located in Moscow.
Source: TASS
All rights reserved by Rossiyskaya Gazeta.