First bus convoy carrying militants travels from eastern Aleppo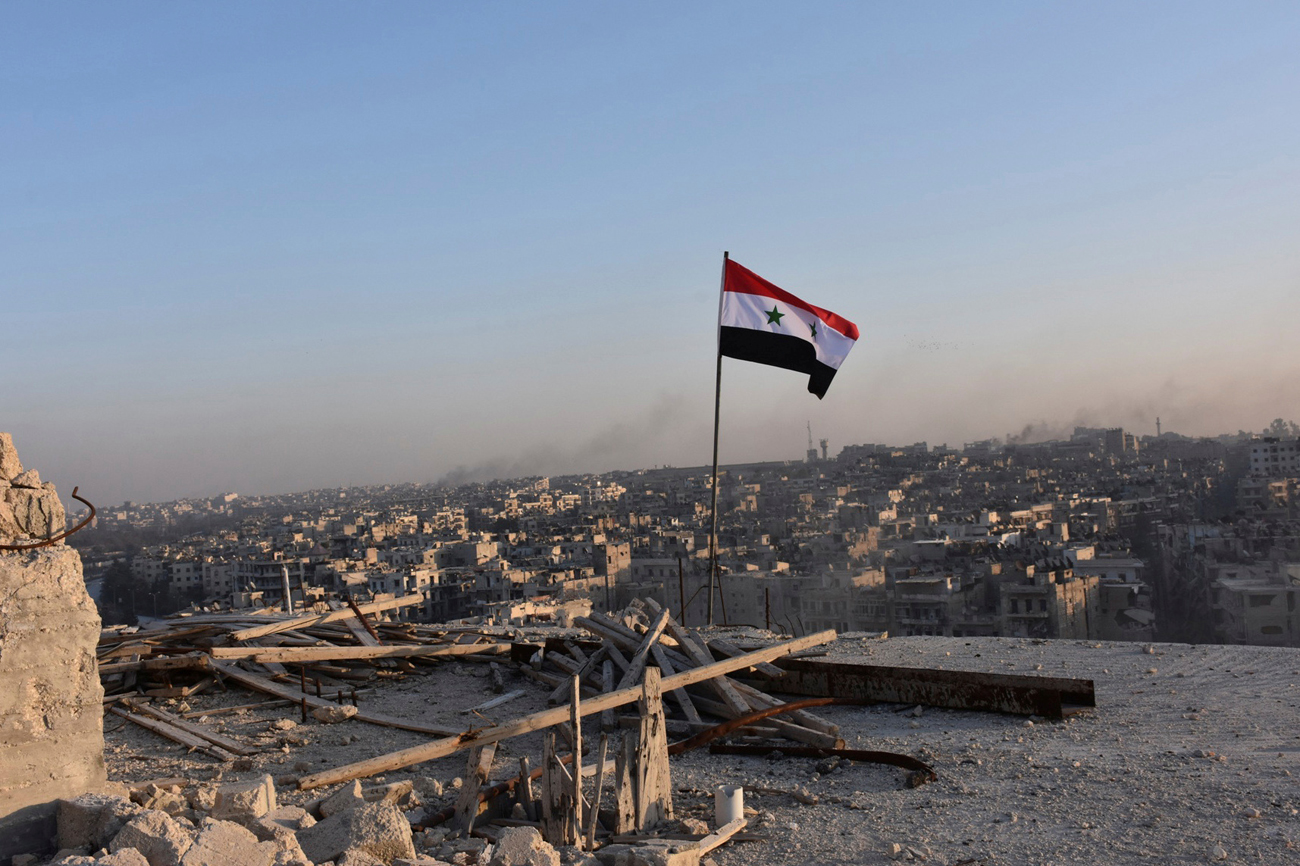 A Syrian national flag flutters near a general view of eastern Aleppo after Syrian government soldiers took control of al-Sakhour neigbourhood in Aleppo.
Reuters
Humanitarian corridor created for evacuation of militants
The first convoy of buses carrying militants is traveling from eastern Aleppo accompanied by Russian military and representatives of the International Committee of the Red Cross, the Russian center for reconciliation of warrying parties in Syria reports.
"The first bus convoy is leaving eastern Aleppo. The convoy will travel via a special route in Aleppo from Salah al-Din neighborhood to Al-Rashidin 4, where gunmen will change to other transport means to travel to Idlib," it said.
The center said buses and ambulances are accompanied by officers from the Russian reconciliation center and representatives of the ICRC. "The website of the Russian Defense Ministry broadcasts online the convoy travel with militants leaving Aleppo," it said.
Five thousand militants and their families have begun to be withdrawn from eastern Aleppo, the chief of Russia's General Staff, General of the Army Valery Gerasimov, said earlier on Dec. 15.
"At the decision of Russia's commander-in-chief, President Vladimir Putin, the evacuation of 5,000 militants and their families from eastern Aleppo began on Thursday," Gerasimov told a news briefing for foreign military attaches accredited in Russia.
"A humanitarian corridor has been created for the evacuation of militants. This corridor is 21 kilometers long. Six kilometers lie across Aleppo's territories controlled by government troops and another 15 kilometers through territories in the hands of illegal armed groups," Gerasimov said. Twenty passenger busses and ten ambulances are used for the operation. Some militants use their own cars, which number about 100, he added.
Source: TASS
All rights reserved by Rossiyskaya Gazeta.