People bring flowers to sealed off Russian embassy in Ankara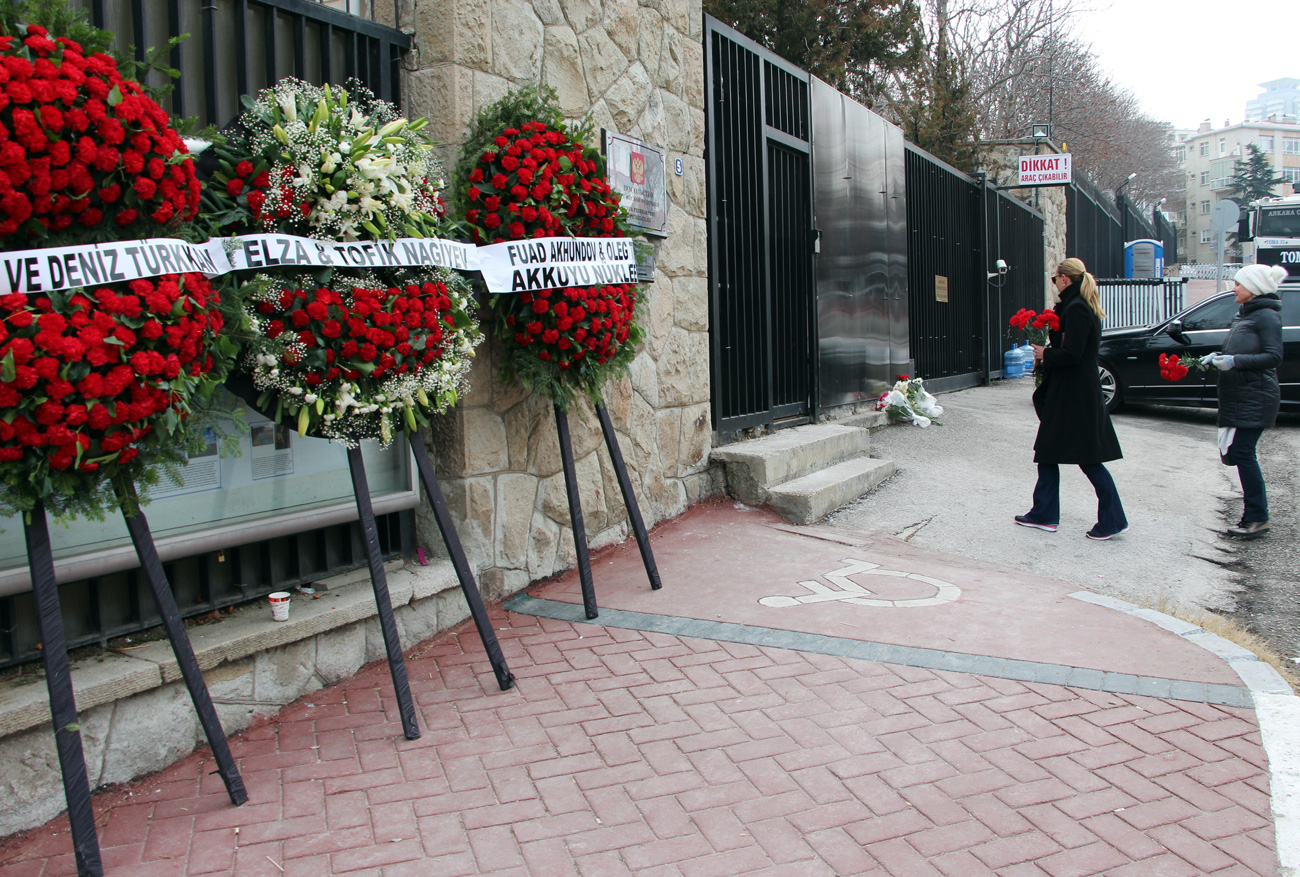 Wreaths at the Russian Embassy in Ankara in memory of the murdered Russian Ambassador to Turkey Andrei Karlov, Dec. 20.
Kirill Zharov/TASS
Special police units have been deployed outside the embassy building
The Turkish authorities have cordoned off all entrances to the Russian embassy in Ankara. Police barriers will stay in place until further notice from the Turkish Interior Ministry, a duty police officer outside the embassy told TASS on Dec. 20.
Special police units have been deployed outside the embassy building, and restrictions have been imposed on the entry of cars and people.
In the meanwhile, Russians residing in Ankara, representatives of Russian companies operating in Turkey and foreign embassy employees are bringing flowers to the Russian embassy over the death of Ambassador Andrey Karlov.
Embassy Spokeswoman Irina Kasimova told TASS that the Russian diplomatic mission in Ankara was receiving a huge number of condolences. "Both Russians and Turkish nationals are offering condolences to Russia over Andrey Karlov's death by telephone and in social networks," she said. The embassy is flying the Russian flag at half-mast.
Russia's envoy to Turkey Andrey Karlov was gunned down in Ankara on Dec. 19 as he was opening a photo exhibition titled "Russia: From Kaliningrad to Kamchatka, through the eyes of a traveler."
According to Ankara, Turkish security services liquidated the assassin who himself turned out to be a policeman. Three people were injured in the incident, which the Russian Foreign Ministry described as a terror attack. The Russian Investigative Committee, which initiated criminal proceedings, classified Karlov's murder as an act of international terrorism.
Source: Tass
All rights reserved by Rossiyskaya Gazeta.