Agreement: Russia may station 11 warships at Syria's Tartus base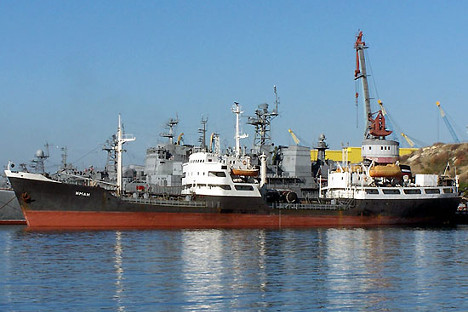 Tartus is being used as a logistics facility for Russian ships.
Mil.ru
Russian-Syrian agreement will stay in effect for 49 years
Russia may simultaneously station as many as 11 warships at the Tartus naval maintenance base in Syria, according to the relevant Russian-Syrian agreement posted on the official legal information web portal on Jan. 20.
"The maximum number of Russian warships allowed to stay simultaneously at the maintenance base is 11, including nuclear-powered combat ships, provided that nuclear and environmental safety is complied with," the document says.
The Russian-Syrian agreement will stay in effect for 49 years and will be automatically prolonged for the subsequent 25-year periods, unless either party to the agreement notifies the other party in writing through diplomatic channels no less than one year before the expiry of a regular period about its intention to terminate it, the document says.
The Tartus base will be maintained through Russia's forces and resources, the document says.
"The Russian side has the right to send to the Syrian Arab Republic and maintain at its expense the required personnel of the maintenance facility," the document says.
Also, all documents effective in Russia, including passports and driver licenses, will be recognized to be in effect on the territory of Syria's Tartus.
"The Syrian side recognizes documents effective in the Russian Federation and certifying the identity of persons and their citizenship, documents on education, and also other documents of the personnel of the maintenance base, members of the personnel's families, crew members and also contractors of the maintenance base from among Russian citizens," the document says.
Source: Tass
If using any of Russia Beyond's content, partly or in full, always provide an active hyperlink to the original material.