Syrian troops liberate Palmyra with Russia's air force support, says Shoigu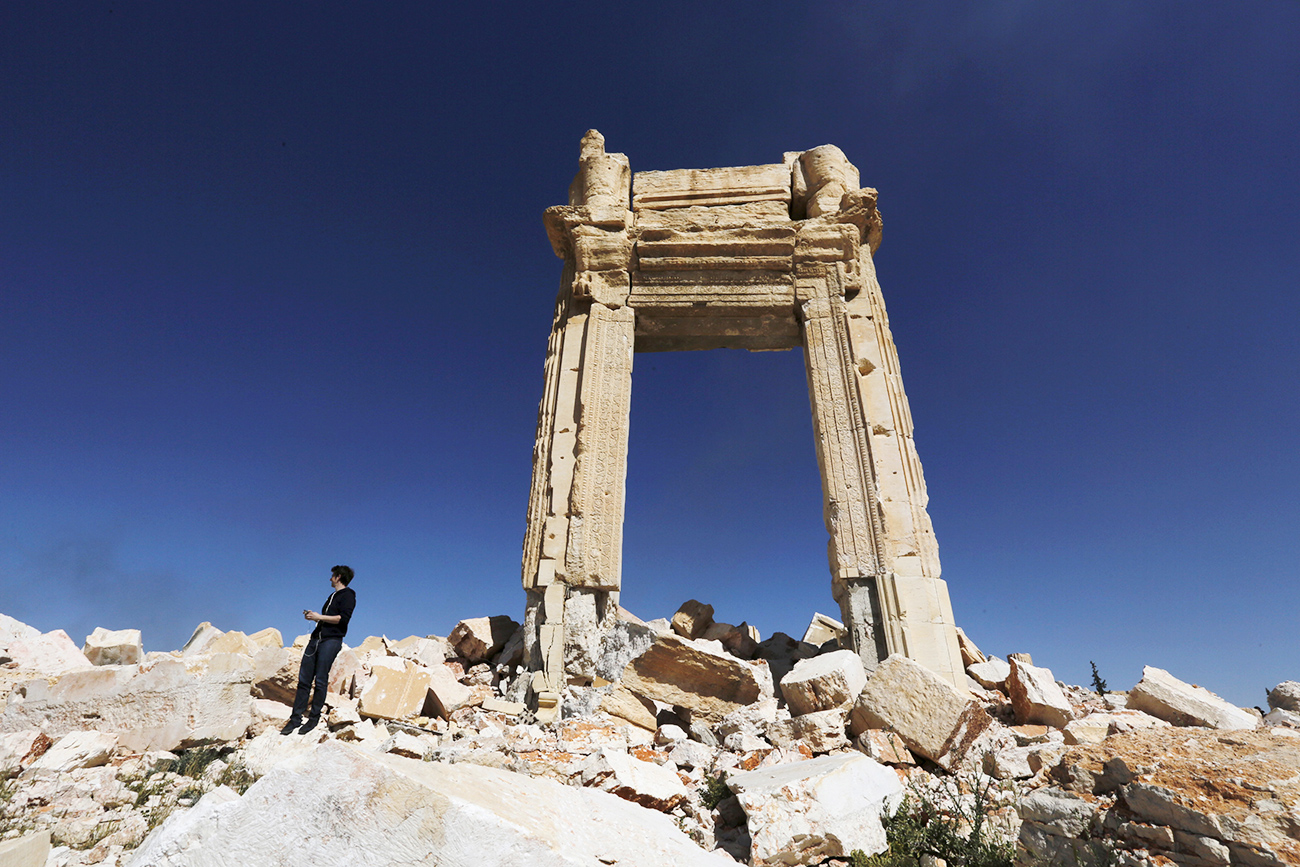 A journalist stands at the remains of the Temple of Bel in the historic city of Palmyra, in Homs Governorate, Syria.
Reuters
Syrian government troops complete their operation to seize Palmyra
Russia's Defense Minister Sergey Shoigu reported to President Vladimir Putin that the Syrian government troops have completed their operation to seize Palmyra with the support of the Russian air task force, Kremlin spokesman Dmitry Peskov said on March 2.
Militants of the Islamic State terrorist grouping seized Palmyra in May 2015 and in late March 2016 the Syrian government troops liberated the city with the support of the Russian air task force.
In December 2016, Palmyra was recaptured by extremists. A year ago, the operation to free Palmyra lasted two weeks. The Syrian government troops stormed the ancient fortress at the entrance to the city on March 25, 2016. Two days later, they entered Palmyra. Large contribution to the liberation of "the pearl of the Syrian desert" was made by the Russian air task force, which delivered pinpointed airstrikes on ISIS positions.
Russian combat engineers subsequently removed mines from the famous ruins of the ancient city.
Terrorists regained control of Palmyra on Dec. 11 last year after a retreat of the government forces.
During the period of their control of the ancient city (from May 2015 to March 2016), ISIS destroyed the famous Arch of Triumph with the colonnade and also blew up the Temple of Baalshamin and the sanctuary of the supreme Semitic god Baal.
On Jan. 20, ISIS destroyed another renowned monument of ancient Palmyra: the tetrapylon monument and the fa·ade of the ancient Roman theater built in the second century A.D.
Source: TASS
If using any of Russia Beyond's content, partly or in full, always provide an active hyperlink to the original material.