Record large amber uncovered in Kaliningrad region over past 30 years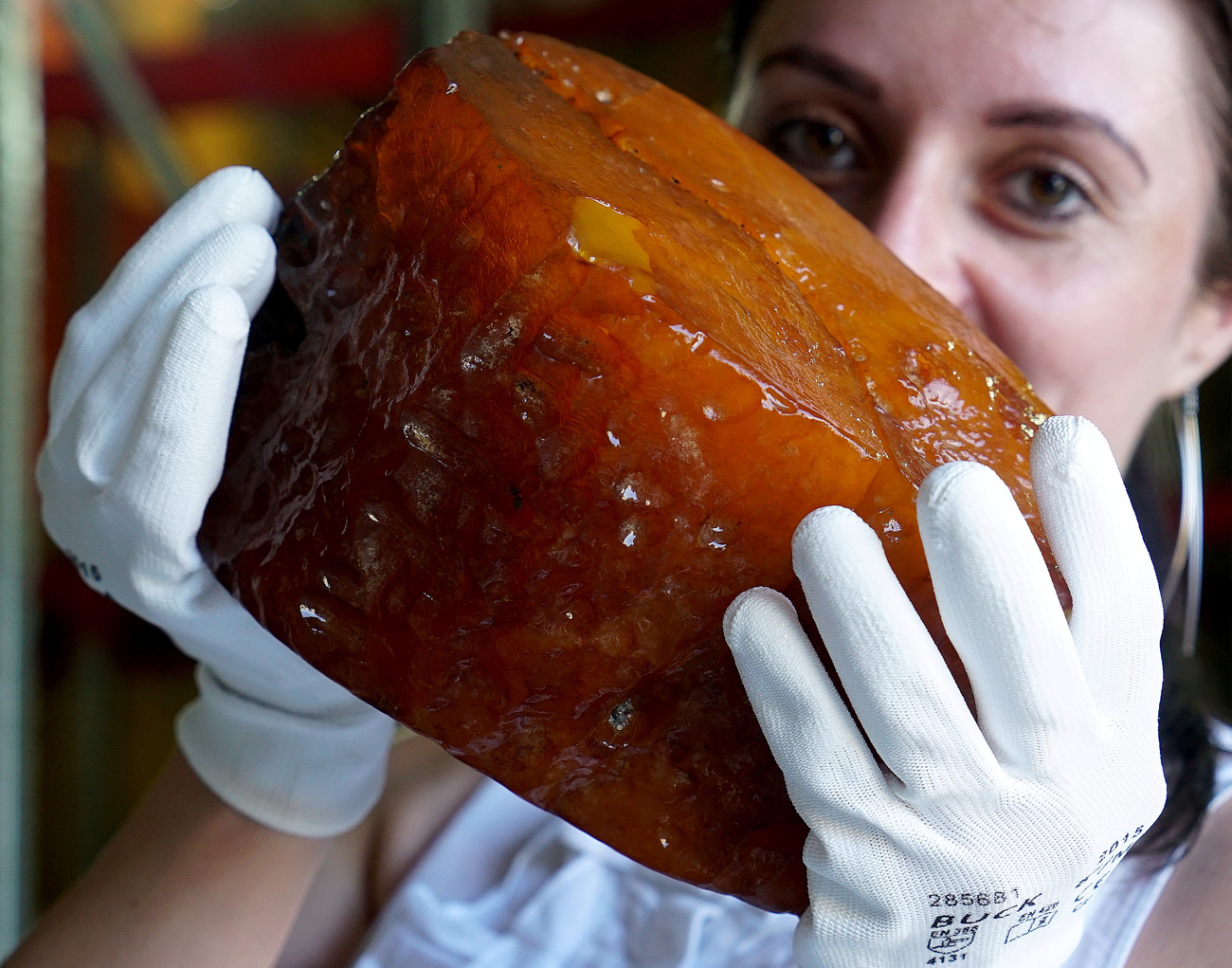 An employee of the Museum of the Kaliningrad Amber Plant shows amber nugget weighing 2.7 kilograms, July 2016. New amber mined on March 6, 2017 weighs 3.2 kilograms.
Igor Zarembo / RIA Novosti
The stone weighs 3.2 kilograms
An amber nugget weighing over three kilograms has been uncovered at a quarry of the Kaliningrad Amber Enterprise in the settlement of Yantarny near Kaliningrad, Enterprise spokeswoman Anna Manakhova told TASS on March 6. The amber is the largest mineral mined by the Enterprise in the past 30 years, she added.
"The stone has been mined today. It weighs 3.2 kilograms. This is the largest amber nugget extracted by the Enterprise in the past 30 years," Manakhova said.
The stone that has been uncovered is the third large nugget mined over the week and extracted by the Enterprise in the season that started on March 1, she said.
As TASS reported earlier, the Enterprise's workers discovered an amber nugget weighing 2.36 kg on March 1 and on the following day a 1.3-kg mineral was found. All the three ambers will be delivered to the Enterprise's warehouse.
Their uniqueness will be assessed by experts of the State Repository for Precious Metals and Gems, after which a decision will be made on their further fate, the spokeswoman said. They can be either transferred for state custody or auctioned off.
The Kaliningrad Amber Enterprise has resumed amber mining after a winter break. By now, the Enterprise has mined over 3 tons of the mineral.
The Enterprise unearths amber nuggets weighing over 1 kg no frequently than 10-12 times a year. The largest amber nugget produced in 2016 weighed 2.7 kg.
The Kaliningrad Region concentrates up to 90 percent of the world amber reserves that were formed as far back as about 50 million years ago. The amber reserves at the Primorskoye and Palmnikenskoye deposits amount to 116,000 tons.
If using any of Russia Beyond's content, partly or in full, always provide an active hyperlink to the original material.