Has Moscow government closed Pushkin's memorial to thwart protesters?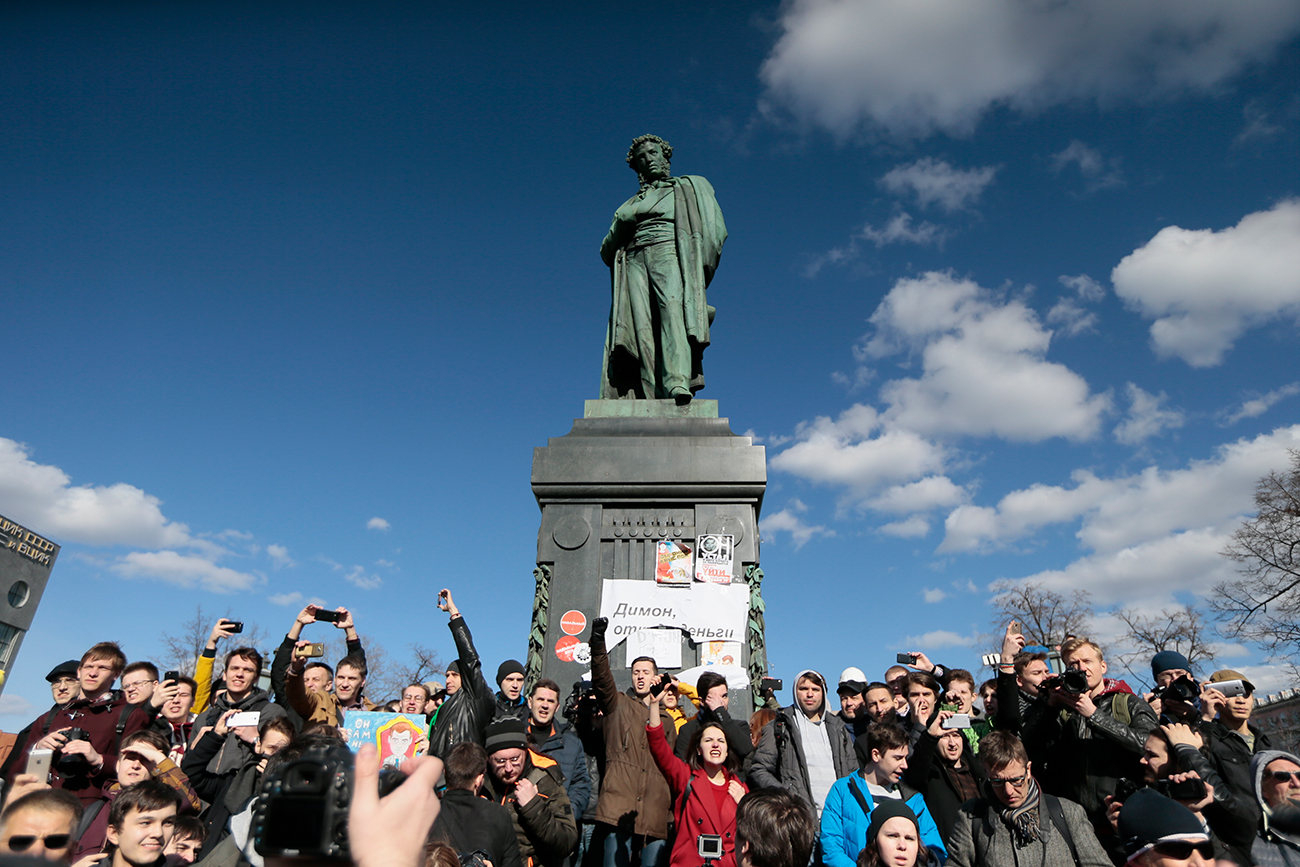 People surround Alexander Pushkin monument. On March 26, protests against corruption were held across Russia.
AP
Authorities are accused of politicising restoration plan, although photos show posters and stickers glued to monument on day of protests.
The deputy mayor of Moscow, Peter Biryukov, says the mass protests that swept through the Russian capital on March 26 have nothing to do with the authorities' decision to restore the memorial to Alexander Pushkin. During a press conference, he claimed the plan had already been made in November, RBK reports.
Biryukov said the documentation for the budget was prepared at the end of last year, and "research work" on the monument carried out at the same time. But he added that starting restoration work in November would have been a "violation of all the laws of technology."
Moscow's head archaeologist, Leonid Kondrashev, also weighed in, saying participants of the restoration plan could not have foreseen "any political events."
The government revealed on March 27 that part of Pushkin Square will be closed until Sept. 2017 due to repair work on the monument's stand. The announcement was made one day after massive anti-corruption demonstrations were held across Russia, with a scores of protesters rallying in the square. Photographs from the march shows posters and stickers glued to the pedestal Pushkin stands on.
People were demanding an investigation into Prime Minister Dmitry Medvedev after opposition politician Alexei Navalny's Anti-Corruption Foundation (FBK) accused him of embezzling a secret fortune worth millions of dollars. According to official data, about 8,000 people took to the streets, although the FBK says the number was three times higher.
If using any of Russia Beyond's content, partly or in full, always provide an active hyperlink to the original material.