Rare version of Khrushchev's speech against Stalin up for auction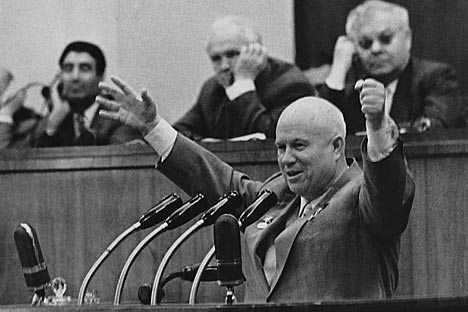 Nikita Khrushchev, the general secretary of the Central Committee of the Communist Party of the Soviet Union from 1953 to1964, is a symbolic figure with an entire era of Soviet history, the thaw, associated with him.
TASS
His words are regarded as a defining moment in Russia's history
Rare editions of the former leader of the Soviet Union Nikita Khrushchev's secret speech denouncing Joseph Stalin are to be sold during a Christie's auction in New York on April 20. The first edition of the speech in Polish has an estimated worth of $2,000 to $3,000.
Two volumes are going under the hammer, both a full and abridged version. The statement 'Wylacznie do uzytku organizacij partyjnich' ("Exclusively for party organizations") is printed on both versions.
In his speech, Khrushchev denounced Joseph Stalin. He called a closed session of Communist Party delegates on Feb. 25, 1956, almost a year after the dictator's death. His goal was to destroy Stalin's image and legacy and he seems to have succeeded, for the speech has become one of the most defining moments in Russia's recent history.
According to the Encyclopedia Britannica Online: "Khrushchev recalled Lenin's Testament, a long-suppressed document in which Vladimir Lenin had warned that Stalin was likely to abuse his power, and then he cited numerous instances of such excesses."
If using any of Russia Beyond's content, partly or in full, always provide an active hyperlink to the original material.