'Immortal Regiment' marches planned in Toronto ahead of Victory Day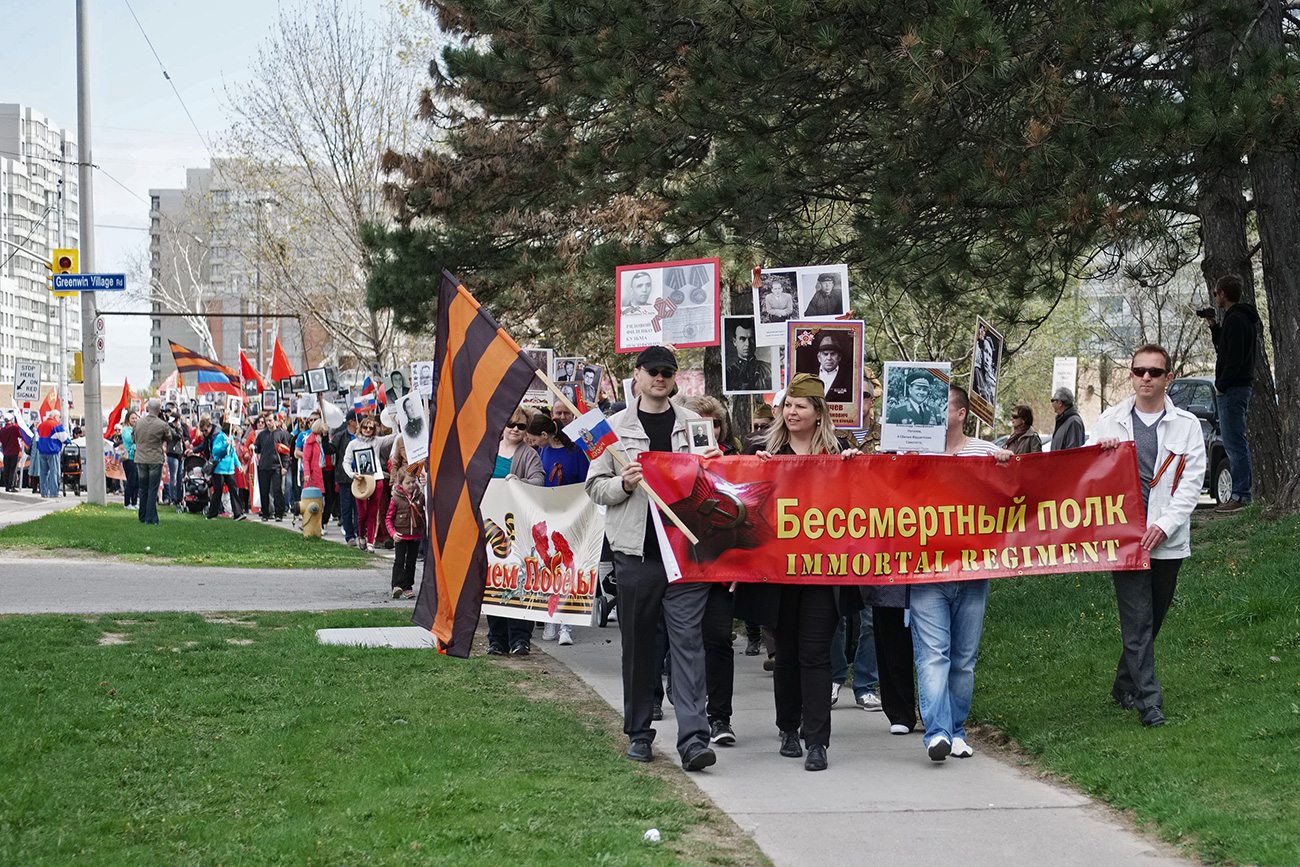 Immortal Regiment march on the 71st anniversary of Victory in Great Patriotic War in Toronto, 2016.
Sergey Zhernov/RIA Novosti
5,000 people expected to take part in rallies, including centenarians
A total of three public rallies by the 'Immortal Regiment' movement (which honors WWII war veterans) will be held in Toronto in the run-up to Victory Day on May 9, reports TASS.
The first act is planned for May 6 at 1 p.m. and will take place in the city's downtown area.
"We've mapped out a very interesting and emblematic route," Leon Mitzner, the head of the Russian Canada group said. "We'll walk down the busiest streets – Yonge, Dundas, Queen – for a second time. These streets have many military monuments, including the memorial to the soldiers who died from 1939 through 1945."
Mitzner says he expects no less than 2,000 people to attend but is hoping up to 5,000 people turn up.
Activists from Toronto's Russian-speaking community invite Canadians to join the rally.The second Immortal Regiment march will take place at 2 p.m. on the same day in North York, the northern part of the city where most descendants from Russia and other former Soviet republics live. Its organizers also hope to bring together up to 5,000 people.
"The Immortal Regiment originated in Russia but it turned out to be exactly the element that Canada didn't have," said Alla Suvorova, leader of the Russian World of Canada, a Russian-speaking community in Canada. "We didn't have a patriotic holiday here previously. People would stay in their homes and quietly mark V-Day, and when we held this action in Toronto in 2015 for the first time, the whole community got enthusiastic about it and we realized people did need a holiday."
Suvorova said Soviet veterans living in this city were particularly pleased and young people showed enthusiasm too.
At 9 a.m. on May 7, a third Immortal Regiment march will be held in same part of the city. Its participants will then merge with the veterans' rally in Sheppard Park (known officially as Earl Bales Park), said Vyacheslav Volkov, president of the Association of Soviet WWII Veterans.
"At present, our association has 64 former soldiers who fought on the frontline and about a third of them can join the march," he said. "Also we expect veteran workers of the home front, former prisoners of concentration camps, and the children of people who died during the Great Patriotic War defending their country."
Volkov expects that about 80 people between the ages of 90 and 100 to come to the march. "While some of them will be able to traverse the 500 meter route on their own, half of our veterans will do it in special wheelchairs," he said.
If using any of Russia Beyond's content, partly or in full, always provide an active hyperlink to the original material.