Ukrainian border guards refuse entry to Russian fans heading to Eurovision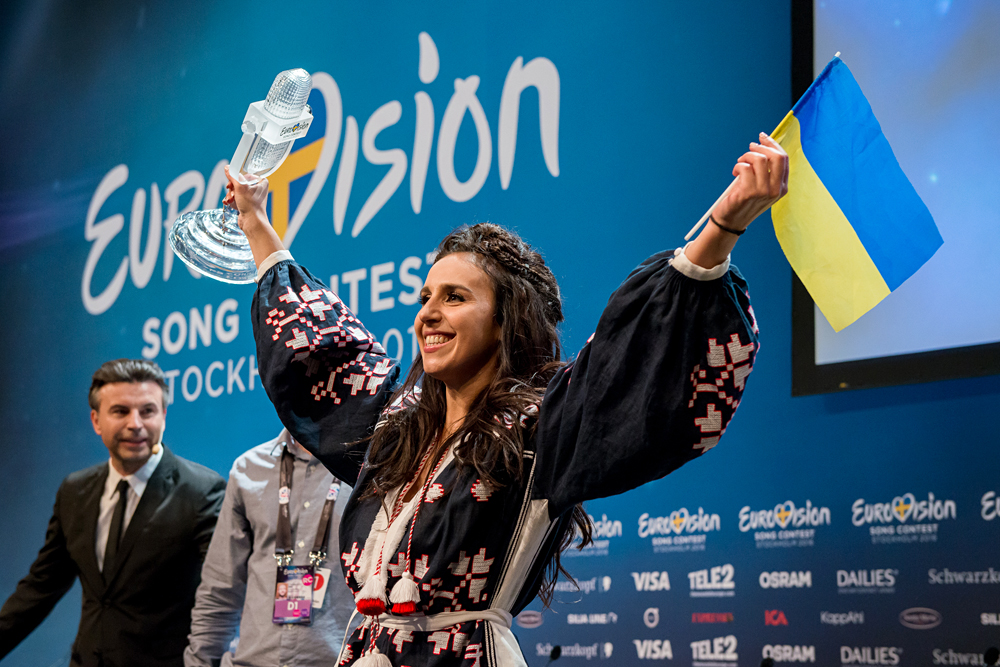 Ukraine's Jamala celebrates as she wins the Eurovision Song Contest final with her song '1944' in Stockholm, Sweden, May 15, 2016.
Anna Velikova (EBU)
They could have a different aim of the trip, Ukrainian official says
Ukrainian border guards have banned several Russian fans from entering Kiev where they were heading for the Eurovision Song Contest, on grounds that they were not sure about the true aim of the trip, Ukrainian State Border Guard Service's Spokesman Oleg Slobodyan told TASS on May 11. The spokesman confirmed the episode at Kiev's international airport Borispol.
"Border guards admitted that they could have a different aim of the trip, that is why after analyzing the risks they turned them away at the border," he commented.
"If I am not mistaken, we are speaking about four people," Slobodyan specified, adding that no other restrictive measures had been applied.
He declined to say outright whether Ukrainian border guards intended to bar other Russian fans from the Kiev-hosted song contest, claiming that the incident was "an isolated case."
However, "in case, we have doubts about the aim of the trip, we have every right to deny entry to citizens of any country," he answered.
Slobodyan also confirmed that three people representing Russian media outlets had been denied entry to Ukraine a short while ago. He said a female journalist was on top of that banned from entering Ukraine for three years as she "violated Ukrainian legislation by visiting Crimea."
As for the other two Russian nationals, they were also turned away at the border as the guards admitted Eurovision was not the real aim of their visit.
On the whole, "there are no problems with letting in Russian journalists, take a look at the Eurovision press center and you will see them," he said.
On May 10, five Russian fans were sent back to Moscow on a flight via the Belarusian capital Minsk, the organizer of the Eurovision pre-party in Russia Dmitry Melnikov said. On May 6, Ukrainian border guards denied entry to a photographer from Rossiya Segodnya news agency Ramil Sitdikov and Komsomolskaya Pravda journalists Maria Remizova and Yelena Boduen.
If using any of Russia Beyond's content, partly or in full, always provide an active hyperlink to the original material.