Manned launches from Vostochny to be carried out with superheavy rocket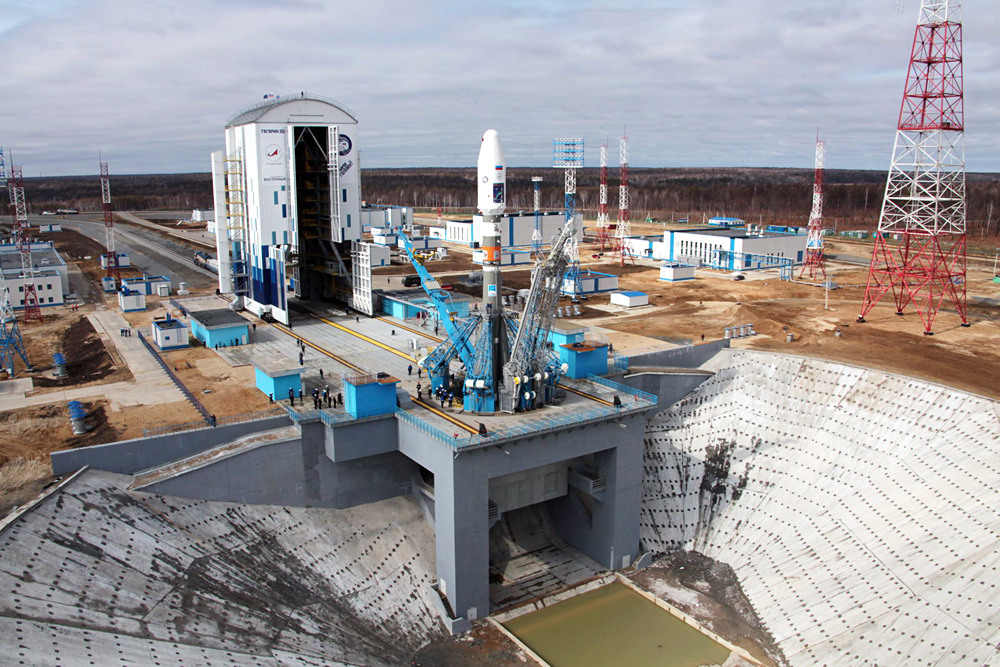 A Soyuz-2.1a rocket booster being installed on a launch pad at the Vostochny cosmodrome, April 2016.
Press office of the Roscosmos Russian Federal Space Agency/TASS
'The Angara rocket is to blast off from Vostochny in 2021,' Rogozin says
Manned launches form the Vostochny spaceport will be carried out with the a super-heavy rocket, Deputy Prime Minister Dmitry Rogozin said on the sidelines of the St. Petersburg International Economic Forum on June 1.
He explained that Russia had no intention of giving up plans to carry out manned launches from Vostochny.
"This is not so," he said in reply to question from TASS. "Manned launches from Vostochny are due. In the wake of the president's decision to speed up the development of a heavy rocket we will adjust manned programs to using a super-heavy rocket from Vostochny," he said.
"Under the decree an Angara rocket is to blast off from Vostochny in 2021. It will put payloads in space in an automatic mode. Also, a decision has been made to take a more rational approach and to keep using Baikonur infrastructures to benefit from likely investment the Kazakh side may make into upgrading the launch pad of the Zenit rocket. Our plan is to recreate a medium-class rocket that can be launched from Baikonur. It will be used for new manned launches," Rogozin said.
Earlier, a source in the space rocket industry told TASS the creation of infrastructures for manned launches from Vostochny would be postponed until a super-heavy rocket that can be used for lunar missions is developed. Also, it was reported that the launch of a new manned spacecraft Federatsiya would be put in space from Baikonur with a new medium-class rocket being created under the experimental research and design project Feniks.
If using any of Russia Beyond's content, partly or in full, always provide an active hyperlink to the original material.