Putin visits Crimean youth camp Artek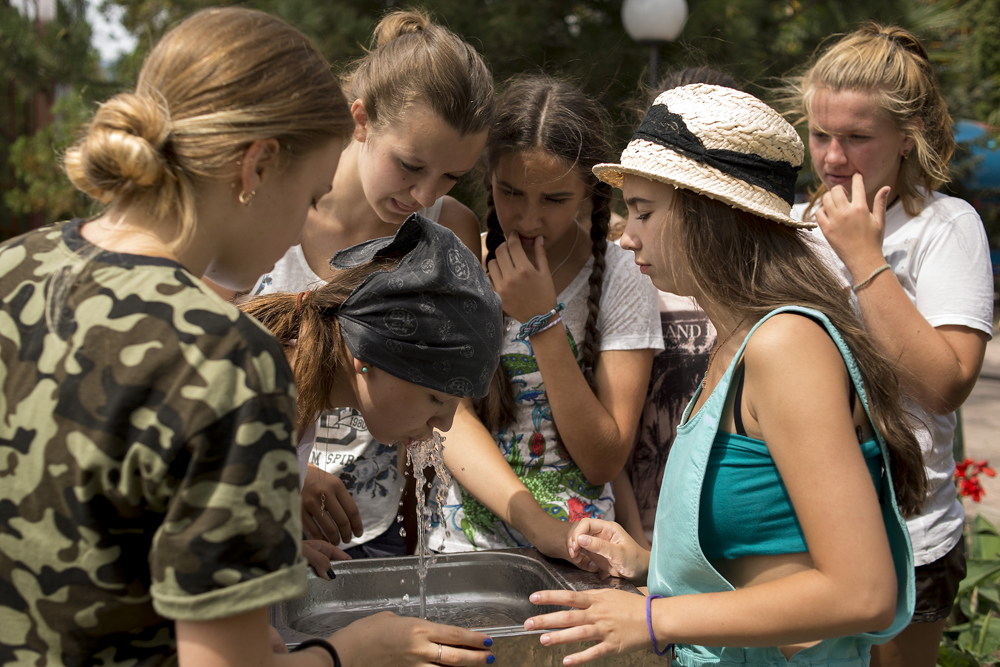 Children in Artek in Crimea.
Mikhail Mordasov
In the world's largest holiday youth camp Putin also talked to children and tasted blini.
Russian President Vladimir Putin visited the children's camp Artek in Crimea ahead of the Samantha's Smile holiday session on Saturday.
Telling the president about the world's largest holiday youth camp, Artek head Alexei Kasprzhak briefed Putin on development plans and promised to show some of the facilities, noting that "the weather is favorable" for the visit. Although, Putin asked him jokingly: "Is it?" since there was a short but heavy shower when he arrived at the camp.
In the children's canteen, Putin tasted a traditional Russian dish, the blini and said they were delicious. Also, Putin wished a happy birthday to a child holidaying in Artek. Then, he was shown round the gym, a campus building and a standard room for children's accommodation.
Accompanying the president, Deputy Prime Minister Olga Golodets drew his attention to photo stands demonstrating the Artek condition just a few years ago, when "everything was falling apart," according to her.
"As you rightly said, the area was meant to be carved up and grabbed piece by piece," Putin responded.
Apart from that, Putin oversaw the construction site of Solnechny (Sunny) camp from the viewing platform and was shown round the oldest square of the international youth center where first tents used to be put up and first Artek lineups used to take place.
Putin put his signature on the memorable plaque of the Grand Artek Alley. "It will become an object d'art," the camp director promised.
The Artek international children's holiday canter incorporates ten camps, as nine of them have been refurbished. The number of camps is expected to total ten at the end of 2018. The new holiday camp Solnechny (Sunny) is expected to accommodate simultaneously 1,000 children with a total area of 6.1 hectares.
Source: TASS
If using any of Russia Beyond's content, partly or in full, always provide an active hyperlink to the original material.