Reagan-Gorbachev sculpture unveiled in downtown Moscow
Gorbachev and Reagan sculpture unveiled in Moscow.
Ruptly
Former leader of Soviet Union calls for improved dialogue between nations
The unveiling ceremony of a towering white sculpture dedicated to former U.S. president Ronald Reagan and Soviet leader Mikhail Gorbachev took place at Bourganov's House state museum in Moscow on July 3, TASS reports.
Gorbachev did not attend the event but said he appreciated sculptor Alexander Bourganov's efforts. In his message, the former president shared his reflections on U.S.-Russian relations, and called on both Washington and Moscow to jumpstart dialogue.
According to Gorbachev, ties between the two nations "are going through difficult, even perilous, times now… I am confident it can be done and that our countries will be able to get back on the path of cooperation and, ultimately, partnership. The most important task today is to do everything we can to resolve the current dangerous impasse."
Gorbachev added: "We need to get rid of the hostile confrontational rhetoric and establish a multi-level dialogue involving citizens, academics, artists, and young people. We and the entire world do not need another Cold War or 'cold peace.' A true peace, peace for all will be our common victory."
Where to find monuments of American presidents in Russia?
Monument to U.S. President Franklin D. Roosevelt: Roosevelt str, Yalta, Crimea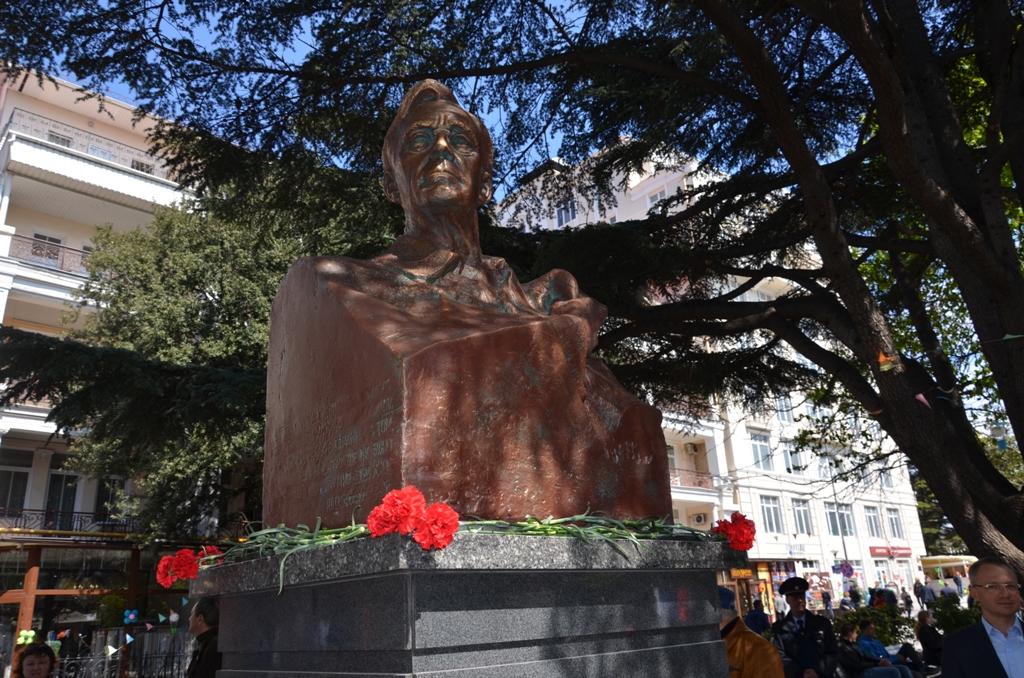 Press photo
A bust dedicated to Franklin D. Roosevelt, the 32nd President of the United States, was unveiled on April 22, 2017
Monument to the "Big Three" – Stalin, Roosevelt, and Churchill: Baturyna str., 44, Livadiya, Crimea
The monument was unveiled to mark the 70th anniversary the historic Yalta Conference in 1945
Monument to Churchill, Roosevelt, and Stalin: Vinogradnaya str., 14, Sochi, Russia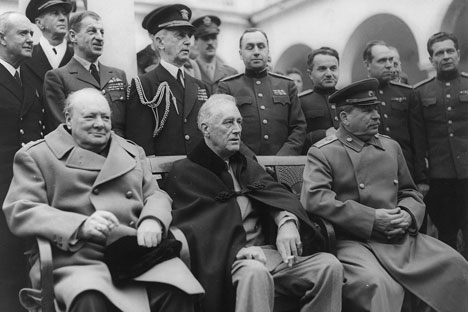 Yalta Conference in February 1945 with (from left to right) Winston Churchill, Franklin D. Roosevelt and Joseph Stalin. /U.S. Signal Corps/Library of Congress , Franklin D. Roosevelt Library & Museum
The monument was unveiled in 2008 and is dedicated to three famous allies
A bust of Abraham Lincoln: Nikoloyamskaya str., 1, Moscow, Russia
The bust is a gift to the Rudomino All-Russia State Library for Foreign Literature, from the University of Illinois Library of Foreign Literature in honor of its 75th anniversary (1997).
Editor's note: Article previously stated that Gorbachev attended the unveiling - this was incorrect. Article has been updated accordingly.
If using any of Russia Beyond's content, partly or in full, always provide an active hyperlink to the original material.