All DNR tanks withdrawn from contact line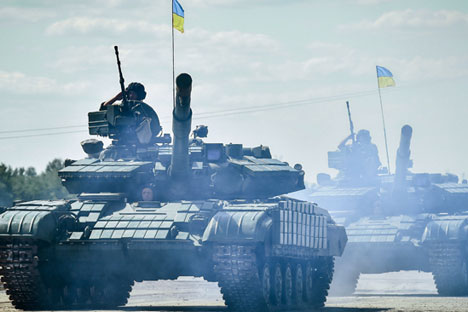 Participants were not able to agreed on withdrawing arms with a caliber of up to 100 mm from the line of contact. Source: TASS
All tanks of the self-proclaimed Donetsk People's Republic have been pulled back, DNR Armed Forces Col. Ruslan Yakubov told reporters on Oct. 22
All tanks of the self-proclaimed Donetsk People's Republic (DNR) have been pulled back, DNR Armed Forces Col. Ruslan Yakubov told reporters on Oct. 22.
"Today is the second day of the arms withdrawal. Today we have accomplished this issue. Two days were assigned for the tank withdrawal by the DNR. As of today, all tanks possessed by the DNR have been pulled back. All vehicles were presented to the OSCE mission that verified their hull numbers," Yakubov said.
The vehicles are combat ready and may be used if the ceasefire is breached by the Ukrainian Armed Forces, he noted.
As reported earlier, the DNR began to pull back tanks from the contact line on Oct. 21. The first ten tanks were removed from the southern part of the contact line in the Novoazovsk district on Oct. 21. Tanks were withdrawn in the Horlivka area on Oct. 22.
All rights reserved by Rossiyskaya Gazeta.