Prospects for the Russia-India-China strategic triangle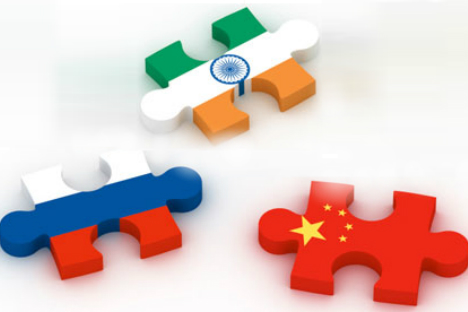 The RIC strategic triangle concept is a post-cold war phenomenon. Source: Getty images
Should this grouping should continue its ad hoc like nature or do the members need to synergise their activities to match their potential?
The Russia-India-China (RIC) strategic triangle is perhaps an under-emphasised theme in the discourse on multi-polarism and emerging groups in that direction. Last year the foreign ministers of these countries met within a fortnight of the meeting of the BRICS at New Delhi, and this year the meeting has yet to take place. The three countries are rising pillars in a multi-polar globe and their contribution to international economic growth and peace and stability is beyond doubt. The countries' participation in, and being part of, various crucial groupings such as BRICS and G-20 and their economic growth despite global economic slowdown, and their contribution to the reshaping of global decision making process is acknowledged by the nations of the world. The point is: whether this grouping should continue its ad hoc like nature and end up in annual foreign ministerial meetings, or the members need to synergize their activities to match their potential?
The RIC strategic triangle concept, though older than the BRICS concept, is a post-cold war phenomenon. It was originally conceived by the former Russian Foreign Minister, later to become Prime Minister, Yevgeny Primakov. Succeeding an Atlanticist, Primakov was considered to be a Eurasianist. The initial years of complexity in terms of economic crisis had geared Russian foreign policy mechanism Westward. Post-Soviet Russia's first Foreign Minister, Andrei Kozyrev vigorously pursued a pro-Western policy with the belief that Western cooperation would salvage Russia from economic crisis. In those formative years, there were various strands in Russia's foreign policy making process, including one dominant group advocating a pro-West policy, while another dominant group insisting on continuing the old policy, though in a modified way, of continuing and strengthening old friendships. Primakov belonged to this second group. After becoming Foreign Minister of Russia in 1996, even before that, he argued that Russia is a Eurasian power and must pursue a policy of 'near-abroad,' in which the relations with former Soviet republics and also other countries of Eurasia must be cultivated.
Primakov became Prime Minister in 1998. And the same year during his visit to New Delhi he pitched for a strategic triangle between Russia, India and China. His underlying arguments were the following. After the end of the Cold War, the world is no more divided into blocs. Rather, it is a world of multi-blocs or multi-poles. The rise of regional powers as well as rise of regional organizations complemented such a characterisation of the world order. He argued that in the evolving global order, the three powers must come together to reshape the global order. Russia and India, despite post-cold war changing equations and despite their adaptation to market economy and globalization, shared these viewpoints. Both the powers during this New Delhi visit of Primakov advocated for a multi-polar global order, and argued in favour of a peaceful resolution of the crises around the globe including the Palestinian crisis, crisis in Iraq, and other contentious issues. The triangle as envisioned by Primakov took a concrete shape in 2001.
The global situation has not fundamentally changed since then. The crises still persist or rather galore. The conflicts in the Middle East or in Korea, or the rising menace of extremism and terrorism, or the financial problems have contributed to uncertainty factor and raised questions about the sustainability of the prevalent global order. The last meeting of the foreign ministers in Moscow in April 2012 voices some of these concerns. For instance, the leaders criticised North Korea for rocket lunch but at the same time opposed any sanctions against the peninsular country, and advocated for a peaceful solution through six-party talks. The RIC in that sense can play the role of a balancer in global political and economic processes. Two of the members are permanent members of the United Nations Security Council, the most powerful body with wider acceptance among the nations. All the three countries' global visions converge on many accounts. All of them are in favour of coordinated mechanisms to counter terrorism and extremism, all of them favour a peaceful resolution of crisis in Syria, in case of Iran all of them argue for a peaceful resolution of the crisis, and in case of Afghanistan, the three countries share a common vision of a peaceful and stable polity in the war-torn country after the International Security Assistance Force departs.
There are no doubt differences among the three members, but a closer scrutiny reveals similarities of aspirations trump over dissimilarities of perceptions. India and China have differences over their border demarcations, the three countries have differing interests in Asia-Pacific, but that should not slight the prospects of gains from cooperation. The potentials of cooperation between these three countries are really vast. While Russia is energy rich country, both India and China are energy hungry countries. There can be vast networks of transport and communication between the three countries by exploring the Silk Road through Afghanistan and Central Asia with links with these three countries. In arms sector there are ample scope of cooperation as well. It is the economic diplomacy which needs to be prioritized in relations, while contentious political issues can be dealt with a spirit of moderation and negotiation. In this political sphere too, there has been tremendous progress. There has been no case of border skirmishes between these countries for decades together, and particularly in the context of India and China the high level meetings between national security advisors between the two countries is a regular phenomenon, which has helped in moderating tensions at borders.
The RIC has already many trilateral forums like RIC Trilateral Experts Meeting on Disaster Management, Trilateral Business Forum, and Trilateral Academic Scholars Dialogue. Perhaps this is time to further synergise the trilateral acts by institutionalising the meetings in terms of a permanent secretariat and permanent representatives. Besides foreign ministers, the triangle can also involve highest officials, President in case of Russia and China and Prime Minister in case of India. Perhaps that is an emerging imperative of the post-cold war global order.
Dr Debidatta Aurobinda Mahapatra is an Indian commentator. His areas of interests include India-Russia relations, conflict and peace, and strategic aspects of Eurasian politics.
All rights reserved by Rossiyskaya Gazeta.