World Figure Skating Championships: Making forecasts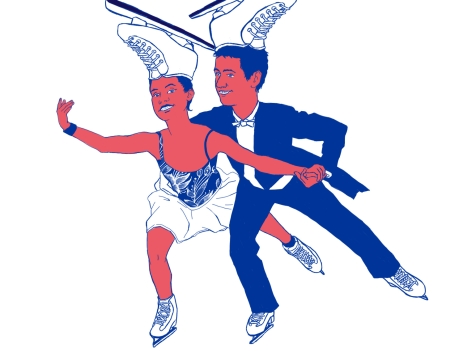 Alexei Urmanov, an Honored Master of Sport of the Russian Federation, predicts stiff competition at the 2013 World Figure Skating Championships, which will take place in Ontario, Canada this year.
Drawing by Natalia Mikhaylenko. Click to enlarge the image.
The World Figure Skating Championships, which take place ahead of the Olympics, are always very important for purposes of raising a figure skater's rating. In figure skating, despite the revamping of the judging system, a lot remains subjective.
The competitions among male skaters should be very interesting. Canada's Patrick Chan no longer holds the undisputed crown as displayed at the World Championships in Nice last year. Of course, he may be helped this year in Ontario by his own native ice, but it is doubtful that he will be able to defend his world-title skating on just one skate.
There are too many other contenders for the title King of the Ice: Japanese skaters Daisuke Takahashi and Yuzuru Hanyu; the new European champion Javier Fernandez of Spain; and the number-two skater on the Canadian team, Kevin Reynolds, who is the winner of the Four Continents Championships.
This season in the free-skating program, Fernandez and Reynolds have both included three quadruple jumps.
Maxim Kovtun, the only Russian contender in this discipline, may decide to take the same risk. He executed two quadruple toe-loops at the European Championships, but he also has a quadruple salchow in his arsenal. Kovtun prepared very purposefully for the World Championships and has had the opportunity to strengthen his programs – both in terms of their difficulty and in terms of their components.
In the women's competitions, there are even more contenders for the throne: reigning World Champion Carolina Kostner of Italy; American Ashley Wagner; Canada's Kaetlyn Osmond; and the Japanese team, headed by Mao Asada. And let's not forget Korea's Yuna Kim. After her triumph at the Vancouver Olympics, she took a break from Olympic-eligible skating. Ahead of Sochi 2014, however, she has decided to return.
Two medal winners from the last European Championships – Russians Adelina Sotnikova and Elizaveta Tuktamysheva – are ready to put up a serious fight. Still, they probably will not manage to outskate such serious competitors. After all, for both Adelina and Elizaveta, this will be their debut World Championships. Ontario will also give Russia's Alyona Leonova a chance to rehabilitate herself after her disappointing start this season. After all, she won a silver medal at Nice.
If the field of contenders for medals (including gold) is very deep among the solo skaters, then among the pair skaters the battle for top honors will be fought by two couples. In Zagreb, Russians Tatiana Volosozhar and Maxim Trankov were the champions; this was the first time at such a high-level competition that they had outskated German-Ukrainian Aliona Savchenko and German Robin Szolkowy.
The Russian pair skated with particular courage, given that Maxim's father had passed away only three days prior to the event. In Ontario, these students of Russian pair-skating coach Nina Mozer will need to show their calm professionalism.
There are not likely to be any other pairs capable of interfering in the Russian-German confrontation at this year's World Championships. The experienced Chinese pair of Qing Pang and Jian Tong is not doing very well this season. Meanwhile, Canadians Meahgan Duhamel and Eric Radford have not yet attained a level that would allow them to win a gold medal.
In the ice-dancing competitions, the favorites remain the Canadian duo of Tessa Virtue and Scott Moir and the American duo of Meryl Davis and Charlie White. It is almost certain that the fight for the gold medal will be an internal matter for this group. As for the bronze, there are many contenders, including the champions and runners-up at Zagreb – the Russian pair of Ekaterina Bobrova and Dmitri Soloviev and the Russian duo of Elena Ilinykh and Nikita Katsalapov, respectively.
Alexei Urmanov, is 1994 Olympic champion, 1997 European champion, bronze medalist at the 1993 World Championships. Urmanov was the Soviet Union's last figure skating champion, and he is the four-time champion of Russia. He retired from Olympic-eligible skating in August 1999 and won the World Professional Championships in December of that same year. Today, Urmanov is a coach at the Figure Skating Academy in his native city of St. Petersburg.
First published in Russian in Gazeta.ru.

All rights reserved by Rossiyskaya Gazeta.