Developing the domestic market through the Moscow Exchange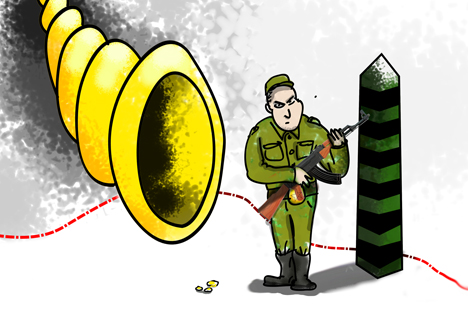 Bella Zlatkis, the Vice-Chairman of the Board of Sberbank, about prospects of privatisation with listings exclusively on the Moscow Exchange.
Drawing by Niyaz Karim. Click to enlarge the image.
Privatisation with listings exclusively on the Moscow Exchange can have a positive impact in developing the domestic market. Yet certain factors need to be taken into account.
I believe the interest shown by Russian and international investors in local shares will grow as infrastructure and regulatory reforms are put into practice in the Russian financial sector.
This will produce a positive impact on the maximum possible privatised stock offerings and investors' price sensitivity. It's important to strengthen the central depository and invest pension funds in the stock market.
Using previous offerings as benchmarks or setting different bottom prices prevents privatisation deals from accessing the market in due time and affects stock quotes. Foreign governments do not emphasise all-time highs or lows. Giving up on the concept of minimum price is especially important at the initial phase of market transformations.
It's also important for government and privatised entities not to make public statements about an impending transaction, the planned prices, timeframes and structure.
Disclosures of public offerings in Russia often miss essential information and may not be convenient for international investors.
Foreign investors feel more secure investing in a company listed on an international stock exchange because the issuer is accountable to stricter standards and bears liability under the applicable foreign law.
Another factor is connected with identifying the number of privatisation deals. If demand were many times higher than supply, as it was in 2007, you could make any offering in Russia alone: investors would overcome all barriers, including underdeveloped post trading, languages, lawyers and legislation.
But demand is low at the moment and the above factors prevent a multi-billion dollar offering from being pegged exclusively to the Moscow Exchange.
Consequently, as with the sale of Sberbank shares, if the selling shareholder's priority is to attain the most appropriate sale price and international recognition, it would make sense to combine domestic and international listings for transactions.
For smaller privatisation deals, shares offered for market sale by the Russian Federation should only be listed on the Moscow Exchange, thereby promoting further development of the domestic financial market.
Foreign investors have a positive impact on our prices, offer a better (not speculative) structure of shareholders and a positive influence on management. The Moscow Exchange has done a lot lately to attract foreign investors.
In 2012, there were no breakdowns, although there were some integration problems, including the challenge of moving the National Settlement Depository to a new site and establishing the central depository. It is a good thing that they introduced the T+2 system to increase market liquidity.
It is now time for government to have its say, for it can influence the emergence of domestic investors in Russia and thus shore up the market and set the stage for further development.
Bella Zlatkis is Vice-Chairman of the Board of Sberbank.
First published in Russian in RBC Daily.
All rights reserved by Rossiyskaya Gazeta.