Rugby World Cup Sevens: A Hooligans' Game Played by Gentlemen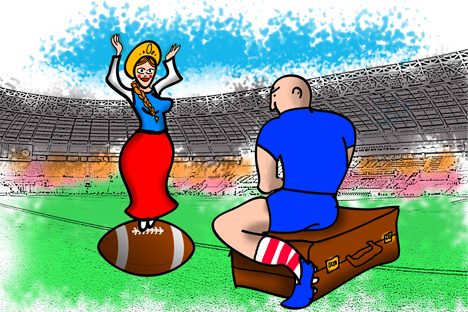 Alexander Yakovenko, Ambassador of the Russian Federation to the United Kingdom, reflects on one of the world's most exciting sporting tournaments - the Rugby World Cup Sevens that will take place in Moscow this summer.
Drawing by Niyaz Karim. Click to enlarge the image.
In just under two months' time, one of the world's most exciting sporting tournaments - the Rugby World Cup Sevens - will get underway at Moscow's iconic Luzhniki Stadium, home to the historic 1980 Olympic Games.
Moscow will play host to some of the world's most talented athletes for what promises to be an amazing sporting spectacle, drawing fans from across the world and, crucially, introducing many thousands of Russians to the great British game of rugby.
I must applaud the International Rugby Board for its decision to award the hosting of one of its flagship events to Moscow. We know that Russia is relatively unchartered territory for the IRB, but this is precisely why they took the bold decision to bring the Rugby World Cup Sevens to Moscow.
Russia has sport in its blood, it is part of our DNA, but as yet, rugby has still to break through into Russia's wider public consciousness. Moscow 2013 will help to change that. We understand the trust that the IRB has placed in Moscow to deliver a tournament that it can be proud of, and we will not let it down.
That is why we are planning a major community ticketing program that will mean thousands of young people from Moscow and beyond will get to experience the skill and spectacle of world class rugby sevens at Luzhniki Stadium. It is why we are rolling out a multi-million dollar advertising campaign for the tournament across Moscow. And it is why we have relaxed tourist visa requirements for the tournament.
It is an exciting time for rugby in Russia. We have 26,000 rugby players in Russia and I am sure that number will grow on the back of this summer, and the Rio 2016 Olympic Games where rugby sevens will make its debut. That is because Russia is passionate about Olympic sport.
And with our women's sevens team currently lying 7th in the Sevens World Series, possible medal contenders in Moscow this summer, and our men's sevens team in the ascendency, the summer of 2016 could well prove to be another major milestone for the development and popularity of rugby in Russia.
As part of my own role promoting Rugby World Cup Sevens 2013, last week I was delighted to host a reception for the Russo-British Chamber of Commerce in London. This important organization has existed since 1916 to build trade and cooperation between our two countries, and the reception reminded me that it is not just in commerce that Russia and Britain share strong ties. Our links also reach into rugby.
For example, Kingsley Jones, our Russian men's team head coach, is Welsh. Howard Thomas, deputy managing director of RWC Sevens 2013 and vice president of the Rugby Union of Russia, is a former CEO of England's Premier Rugby.
Several of Russia's national squad are now playing professionally in England, including Northampton's Vasily Artemyev and London Welsh's Kirill Kulemin. And our men's team visited England last year as part of its preparations for this summer's tournament and played against a number of teams including Canada and the U.S.
My message to the many British companies that attended last week's reception was simple. Moscow will stage a fantastic tournament and your organisation should be there, not just to experience an amazing sporting spectacle in one of the world's most vibrant cities, but to use Moscow 2013 as an opportunity to further develop your own business contacts and commercial opportunities.
As with any growing company with global ambition, a clear vision and a desire to develop new markets, the IRB has chosen Moscow to help grow rugby in what it has termed a 'new frontier' - Russia. That is a smart strategy that I am confident will show real dividends in the years ahead.
The nations of Great Britain have for a long time played an important role in developing and professionalising rugby, and Russia is now benefiting from Britain's longstanding rugby experience. By hosting the World Cup Sevens 2013 in Moscow, the time when Russia can stand tall on the rugby pitch is now closer than it has ever been, thanks to the vision of the IRB.
Moscow cannot wait to welcome the world's rugby community in June 2013. So whether you want to be part of a great sporting spectacle, experience Moscow and all that it has to offer in the height of summer, or develop your Russian business contacts, come and join the party!
Alexander Yakovenko is Ambassador of the Russian Federation to the United Kingdom. He was previously Deputy Minister of Foreign Affairs of the Russian Federation.

All rights reserved by Rossiyskaya Gazeta.