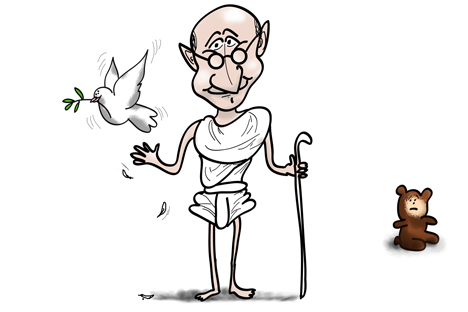 Drawing by Niyaz Karim. Click to enlarge the image.
The new world order succeeding the one built on post-WWII realities will be, to a much greater extent, a "soft power" confrontation of countries and blocs. Currently, Russia remains absent on the "soft power" scene and will need to formulate a policy in this sphere, especially in preparation for the major, upcoming, international events and institutional presidencies it will be holding.
There is little doubt that sovereign countries are slowly and surely losing their capacity to control the key processes within their own borders single-handedly. The global economy is becoming more and more global, interrelated and manifold, and it is becoming increasingly hard (and often impossible) to draw boundaries between different national economies.
Information dissemination systems became a global phenomenon long ago and, since then, have disregarded state borders. Unprecedented numbers of people cross state borders on a daily basis, and millions live and work outside their homelands without becoming typical immigrants, as would have been the case a few decades ago.
This trend cannot help but apply to international politics and diplomacy, as well. What used to be a strictly confidential activity, in which, for centuries, only a small group of people used to engage, is becoming available to a broader audience.
At the same time, the narrowing of the role of the traditional state and the erosion of sovereignty make classical, interstate diplomacy obsolete. On the one hand, in this day and age, it is becoming harder to ensure the secrecy of diplomatic documents and confidential talks, while, on the other hand, global civil society tends to cross borders and become more actively involved in international politics.
The interests of sovereign countries are becoming not only more interconnected but also more uncertain and more difficult to formulate. A military conflict aimed at protecting a country's interests may turn into a war against itself, because the scope of these interests is vague.
The current development pace causes political elites to make fast decisions and revise their priorities on a regular basis — though this runs counter to the very basics of traditional diplomacy.
In this context, the role of unconventional foreign policy factors is growing, including "soft power" — i.e., efforts to build up the international influence, authority and capacity of a country by nonpolitical (let alone military) methods for promoting its values, priorities, ideas and views.
Military methods are still part of the standard toolkit and the need for "hard power" will remain. Yet we can already say that the new world order taking over from the old pattern formed after World War II almost 70 years ago will be, to a much greater extent, a confrontation of "soft powers" applied by countries and blocs.
It is crucial for Russia to elaborate its own "soft power" concept: work out application techniques, development strategies, priorities and objectives. It is also important to tackle financial and organizational issues, gain political and intellectual backing and gather support from civil society and friends of Russia in other countries.
This is Russia's number one task, given its continuous disregard for this issue. Second, Russia still has a doubtful legacy of numerous Soviet stereotypes and clichés. Third, Moscow's geopolitical and ideological opponents and enemies have made impressive progress in tarnishing Russia's image. Some have been doing so because they simply dislike the country; some have been guided by their policies; some have had clearly commercial interests.
In any event, Russia is virtually nonexistent in the global confrontation of "soft powers." The country cannot tolerate this situation any longer, because it not only undermines its international capabilities but also thwarts its efforts to create its own proper, attractive image.
In this context, Russia's economic and political losses will be growing. In the meantime, the potential of its "soft power" is immense and, given the right approach, it can be as effective as American "soft power," which took several decades to develop.
Moscow will have unique opportunities for reshaping the global agenda during the next few years, including its G-20 presidency in 2013, G-8 presidency in 2014 and BRICS presidency in 2015. Given the upcoming Winter Olympics, the University Games and the FIFA World Cup, Russia will obviously become a leading, global newsmaker over the next few years.
Russia will be at the focus of the international public, and it would be a shame to miss such an opportunity for strengthening its "soft power" positions. Yet, in order to succeed, the country requires a coherent policy, which it lacks at the moment.
Nikolai Zlobin is the Russian political analyst and prominent expert on U.S.-Russia relations who wrote a compassionately amusing bestseller about Americans for a Russian audience.
First published in Russian in Rossiyskaya Gazeta.
All rights reserved by Rossiyskaya Gazeta.