From no child left behind to every man for himself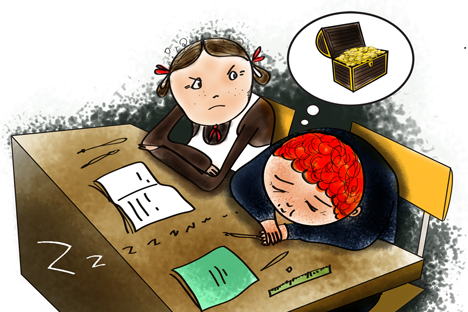 During the Soviet era, teachers and scientists were revered and their dedication to their work reflected their status. Now that today's students aspire to careers in business or entrepreneurship, are educational standards slipping?
Click to enlarge the image. Drawing by Niyaz Karim
In the Soviet Union, no child left behind was the rule, if not the law. The philosophy of the collective combined with a society that revered education and science created a learning environment that put the good of the group above the ambitions of a few.
Teachers were respected, and in turn felt responsible for the achievement of their students. Serious attention was paid to teaching methodology. Pedagogical schools collaborated on the preparation of textbooks and there were institutes dedicated to training qualified teachers.
Teaching was considered a science, and it was popularized along with other scientific fields through a network of societies across the country and a number of journals. The teaching profession was prestigious.
Teacher training colleges in small towns and villages contributed to the inflow of new teachers. Many students completed their higher education in their hometown and went on to serve the schools there.
These teacher training colleges, along with a wide array of agricultural and technical institutes were in a different category from universities. A small group of elite students attended actual universities in the Soviet Union, where they studied five years for their first degree, and became specialists in a very narrow field.
The cult of science and instillation of teachers with an idea of their role as "missionaries for science" also helped to create the unique Soviet educational system.
According to official statistics, during the 1970s and 1980s, there were a total of 1.5 million professional scientists in the Soviet Union and an additional 4.5 million people worked in science-related fields or as research assistants and in other supporting roles for scientific work.
By the beginning of the 1970s, for every 10,000 people working in the national economy of the Soviet Union, there were about 100 scientific workers; in comparison, there were 71 science workers for every 10,000 employed people and in the UK, 49.
Because the scientist was such an important person in the Soviet Union of that time, Soviet schoolchildren aspired to the profession. Science-related clubs and societies run by teachers as well as science professionals were popular after-school activities.
After the fall of the Soviet Union, however, young people began to aspire to other types of professions – a career in business was a particularly popular choice. These types of careers demand a university degree, and there was an explosion in institutes of higher learning.
According the Federal State Statistics Service of Russia, as of the beginning of 2012, there were 1,080 officially registered institutions of higher education in Russia – up from 514 in the early 1990s.
Traditionally, each Russian university offered its own entrance exam, but in 2011, the Unified State Examination was established to serve as both a high-school exit and university entrance exam. Teachers in Russia, as those in the United States, now found themselves "teaching to the test" and making extra money doing tutoring on the side.
Not surprisingly, education standards, particularly in math, declined. Results of the Unified State Exam show that the majority of those students who failed to pass the test did so because of poor results in the mathematics section.
But the situation may be changing. Over the past few years, while business and law remain popular professions, the idea of making money in Internet start-ups and other fields involving innovation is driving some students back to science.
Schools with a specialization in math and science, some attached to scientific institutes and universities, have also been reintroduced into the state educational system. Such special schools also helped foster the emergence of a technical and creative elite during the Soviet era.
In 2008, salaries for teachers were divided into two parts – a base salary and incentive pay – in an attempt to encourage and inspire teachers.
The Russian school is experiencing a new phase in its history and only time will tell if these experiments will result in a return to the high standards for which Russian schools have been known.
All rights reserved by Rossiyskaya Gazeta.