In Russia, the consumer reigns supreme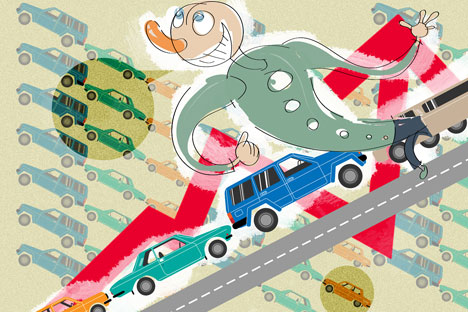 How Russia's macroeconomics indicate it's a booming consumer, not oil, economy.
Click to enlarge the image. Drawing by Julia Platonova
Although Russian economic growth slowed to a mere 1.4 percent year-on-year in the first half of 2013, the domestic consumer trend remains solid.
Russia's current economic growth model relies heavily on consumption. There is good reason to expect this trend to continue, thanks to low unemployment, strong income growth, retail lending expansion, and the social focus of the Russian state budget.
Indeed, retail trade expanded 3.8 percent in the first seven months, supported by faster-than-expected real disposable income growth of 4.3 percent and a strong real wage increase of 5.5 percent.
The first and key reason why the consumer trend looks likely to continue is rapid income growth, resulting from a sharp decline in unemployment.
Russia's strong economic performance in 2001-2008 was in part due to the 6 percent increase in its labor force, to a peak of 76 million people.
However, since then the figure has been stable, contributing to a decline in the unemployment rate to a historical low of 5.1 percent at the end of last year. Companies have therefore been forced to increase wages, despite slower economic growth.
There is little reason to expect the labor market to turn more favorable for companies. Based on official demographic forecasts, the workforce is set to shrink by 2 million people, or 3 percent, by 2017 owing to the demographic decline of the 1990s.
The number of young people under 20 dropped to 30 million in 2012, from 44 million in 1989, limiting the number of new entrants to the labor market. Therefore not only is income growth strong, but it is likely to remain so.
The social focus of Russia's budget policy is also an important factor behind the strong consumer sentiment.
Social expenditures make up 33 percent of consolidated budget spending in 2013, versus 24 percent in 2007, a share that will likely rise in future. Of the country's population of more than 140 million, the state takes care of around 40 million pensioners and 18 million public-sector employees, meaning a substantial 40 percent of the population relies directly on state support.
Finally, retail lending is still expanding at a pace of 30-35 percent year-on-year.
The combination of relatively high income growth and a strong preference for consumption opens up new opportunities on the consumer market, despite the slowing economy.
Natalia Orlova is Chief Economist at Alfa Bank in Moscow.
All rights reserved by Rossiyskaya Gazeta.