Russia and the UK – potential partners in innovation?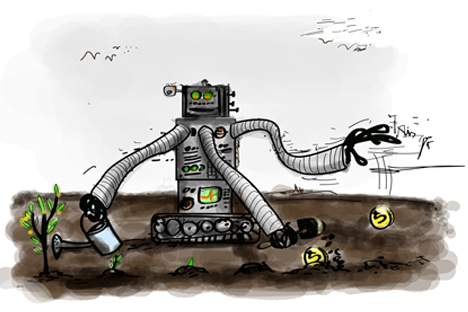 In the modern world when new technologies are developing so fast, international cooperation is twice more important as before, says Alexander Yakovenko, Russian Ambassador to the United Kingdom.
Click to enlarge the cartoon. Drawing by Niyaz Karim
The world today is constantly changing. The global economy is still in a state of flux, with some developed economies enjoying a surge in business activity and employment, and others – for example, on the European continent – just trying to fend off the lingering consequences of the financial crisis. A shift of growth potential to the east and the emerging markets is becoming an increasingly important factor for securing growth on a global scale through international co-operation and trade.
Latest news:
In these circumstances all nations are searching for reliable sources of sustainable and healthy growth to support the livelihoods of their citizens and the success of their companies. Many countries share specific strategies and interests, which can be used for competition and collaboration between governments and corporations.
Take Russia and the UK, for example. Export of its natural resources, notably hydrocarbons, has been an important part of Russian growth policy for generations. It has driven foreign investment, infrastructure development, legal reforms, employment and many other domestic developments.
In the UK, the equivalent "natural resources" are financial services, a key element of the British growth agenda that has boosted many areas of economic activity in the UK.
Russia and the UK have been criticised for their over-reliance on hydrocarbons and financial services respectively. No country can afford to continue relying on age-old traditions and priorities to support national growth and achieve prosperity. Both countries are actively developing high technology, innovations and venture financing. Both governments agree this is a potential Klondike for entrepreneurs, investors, companies and governments alike, a source of employment, investment and development of the SME sector. I do not mean all such projects have to lead to household names as dominant as Facebook or Twitter – this is not the main point.
The British Government is creating favourable conditions for such companies and institutions. Apart from the well-advertised Shoreditch project, I am aware of certain investment support instruments and channels offered to hi-tech firms and new venture capital funds spring into life every month.
Russia has also made innovative development a key priority. Government policies are being implemented though big, well-financed institutions, including Rusnano, RVC (Russian Venture Company), the Skolkovo Foundation, as well as Vnesheconombank development bank. They are backed by Russian universities and corporations.
If it is to succeed, this work cannot be constrained by national boundaries. Helping SMEs and venture capitalists talk to their colleagues in other countries is just as important for their success as providing financing guarantees or new infrastructure. British companies are very active globally and so are Russian institutions. Skolkovo, Rusnano, RVC, private firms and individual entrepreneurs are building relationships and constantly looking for partners, including in the UK, with some interesting projects in the pipeline.
The trend is backed by the two governments – prospects of co-operation in innovation were first discussed by the Russian president and the British Prime Minister in 2011. Efforts in this area will be touched on at the forthcoming session of the bilateral Intergovernmental Steering Committee to be held in Moscow in mid-November with the Russian first deputy prime minister, Igor Shuvalov, and UK Business Secretary Vince Cable presiding. There is a plan to create a dedicated networking platform for Russian and British innovators and venture investors to share thoughts and discuss working together.
The world is constantly changing. The ability to innovate and support new technologies not only provides us with a potential source of growth, but also gives us a wonderful opportunity to co-operate more closely. The dividends of such work can easily be shared.
Alexander Yakovenko is Russian Ambassador to the United Kingdom. He was previously Deputy Minister of Foreign Affairs.
Share your opinion on the issue in the comment section below!
All rights reserved by Rossiyskaya Gazeta.