Putin tops Forbes power ranking thanks to a lack of strong rivals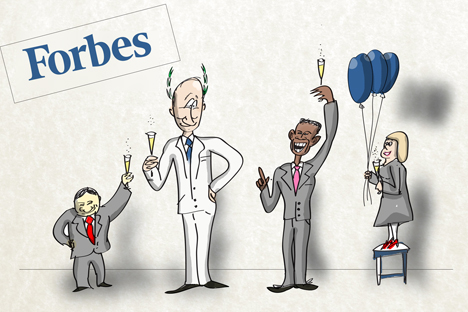 There are a number of reasons why the U.S. edition of Forbes magazine nominated Russian President Vladimir Putin as the most powerful person in 2013.
Click to enlarge the cartoon. Drawing by Niyaz Karim
It is difficult to gauge the accuracy of those experts who say Putin's top position on the Forbes ranking stems from his actually being the most independent international politician, free to decide on what he says and does. Even if true, this independence by itself, unsupported by tangible results in the international arena, cannot possibly bring one such dividends.
Putin's Forbes success this year was primarily due to an evident weakening of U.S. President Barack Obama, who topped the Forbes list in 2012. In 2013, Obama found himself bogged down in drawn-out negotiations with Congress amid the budget crisis, nearly triggering America's economic default. Obama got caught in protracted, and not particularly effective, Israeli-Palestinian talks, and failed to make headway in resolving the Syrian crisis. The Kremlin, for its part, persuaded Syrian President Bashar al-Assad to place the country's chemical weapons under international control.
Another possible reason for Putin's success is that other runners-up became exhausted toward the end of the year or were busy tackling domestic issues. German Chancellor Angela Merkel, who could have given the Russian president a run for his money, spent much of the current political season involved in parliamentary campaigning. Her party won, but proved unable to single-handedly form a new government.
Another possible candidate, Xi Jinping, became China's president in 2013. He spent most of the year overhauling the government system and abstained from high-profile foreign policy steps.
Putin's top place, therefore, appears logical against the background of his weakened rivals, if we are allowed to apply the term to global political leaders. In fact, according to the Kremlin, Forbes' "artificial" ranking of heads of state by their clout runs counter to the main principle of Russia's foreign policy, which is the creation of a multi-polar world.
Putin's Forbes success may be interpreted not as the victory of one leader over another but as the U.S. editorial team's favorable appraisal of Russia's foreign political course, which is founded on respect for other countries' sovereign right to have their own, non-aligned views of global processes.
CIA whistleblower Edward Snowden also contributed to Putin's global reputation. The materials Snowden has leaked about the NSA's surveillance practices led to a crisis of trust in the U.S., including among NATO member nations, prompting many governments and international organizations to accuse Washington of invasion of people's privacy.
The Snowden scandal has certainly made a breach in Obama's global standing, forcing the U.S. president to publicly admit that the activities of his country's security services do not entirely comply with the American values.
Against this background, the Russian president's domestic and foreign policy appeared to be more coherent and constructive. This is why, in the eyes of the U.S. edition of Forbes, Putin became the most unblemished candidate for topping the list of the world's most powerful leaders.
Yevgeny Shestakov is international affairs editor at Rossiyskaya Gazeta.
All rights reserved by Rossiyskaya Gazeta.