A transformative moment for Russian IT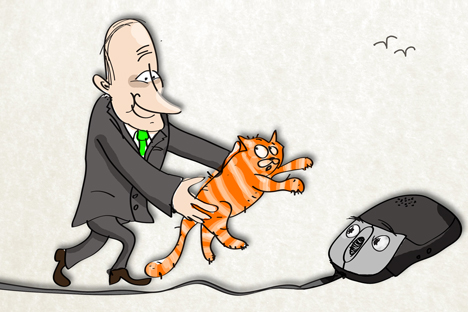 Nikolai NIkiforov, Russian Minister of Communications and Mass Media, speaks about the country's IT sector.
Click to enlarge the cartoon. Drawing by Niyaz Karim
With more internet users than in any of EU member states (76 million people), Russia is not exactly a newcomer to the digital superhighway. But a new IT roadmap approved by the Russian government in July 2013 is eliminating speed bumps as never before, with the potential to drive growth rates comparable to the expansion of the oil, gas and natural resources sectors a generation ago. As demand for energy and other resources downshifts to a degree, Russian IT is poised to surge.
Venture capital investment into the IT sector in the next five years is expected to multiply fivefold, reaching $1.2 billion, and this should be accompanied by a doubling of the export of IT products and services to $9 billion, according to the estimates compiled by Russia's Ministry of Telecom and Mass Communications. We anticipate annual growth of the IT sector (exclusive of hardware sales) to reach 12 percent for the coming years, a pace which is three times higher than growth of country's GDP.
Nikolai Nikiforov. Source: RIA Novosti
We are entering a more dynamic, innovative era, and our ambition is to create an enabling environment in which a new brand on the grand scale of Google, Facebook or Twitter would emerge. By shaping favorable business climate and providing an easier access to finance and international sales channels that drew many of Russia's brightest abroad, we want to incentivize our talented men and women to live and work in Russia.
Our first incentive covers tax policies. The Government has lowered tax payments from 30 percent to 14 percent and has recently proposed to make companies with as few as 7 employees eligible for insurance deductions (from the current 30). In promulgating sector-favorable tax policies, we ensure that the regions benefit as much as country's largest cities: for example, in Novosibirsk, income taxes for businesses in the IT sector will be reduced from 20 percent to 15.5 percent.
The second incentive pertains to education. Investing in a new generation of computer scientists and engineers is recognized at the federal level as a means to sustain long-term growth in the sector, thus we intend to double the Russian IT workforce by 2018 through a targeted support of training of 350,000 professionals on the secondary- and university levels. Our education effort goes hand in hand with promotion of excellence in academic research. As part of a government program to stimulate breakthrough research in computer science we envisage providing funding to approximately 50 research centers across Russia.
Along with offering a new range of incentives to attract and retain our brightest IT specialists, we have started looking beyond our borders, too. The existing legal framework to recruit IT professionals from other countries is going to be simplified. Currently, only highly-skilled professionals with an annual salary of $62,000 or more can benefit from certain streamlined procedures. We are going to lower this threshold to $31,000 , thus opening the doors to a host of new talent from the neighboring countries.
Another way of supporting Russia's IT sector, especially in the regions, is provision of enhanced support to IT technoparks where IT and technological startups can rent offices inexpensively and use special facilities to produce prototypes of their products. We are committed to increasing the cost-effectiveness and accountability of these facilities, with enacting a more robust results framework ensuring that government funds actually lead to the creation of real jobs.
Improving the technopark network is part of a broader effort to reform existing resources, in particular the Rosinfocominvest government fund. The fund will co-finance IT startups selected by qualified investors. Partners of Rosinfocominvest can be venture capital funds or asset management companies that control no less than $9.2 million of assets and have invested more than $5.5 million in at least six IT companies where more than 20 percent of founders are citizens of Russia. Eventually, Rosinfocominvest partners will be able to buy out a stake of the fund in the financed startup.
In the past, Rosinfocominvest has invested in government bonds, blue chips, telecom industries, and their corporate bonds. The fund manages $47 million of assets. The internal rate of return (IRR) of projects to be financed should exceed 100 percent. Rosinfocominvest will expand its strategy to investments in 40 to 80 science and high-tech start-ups, with investments ranging from to $310,000—$930,000 per company. This will be a powerful new engine for growth.
Russia's IT is at a turning point. The sector should mirror the energy and expanse of our country's huge consumer marketplace of web users and designers, the ever growing availability of broadband and mobile technologies, as well as the continued government support for e-commerce. In our vast country, the potential of dynamic, cutting-edge, and innovative IT seems to be limitless.
Nikolai Nikiforov is Minister of Communications and Mass Media of Russia.
All rights reserved by Rossiyskaya Gazeta.