Iskander in Kaliningrad is a vestige of the Cold War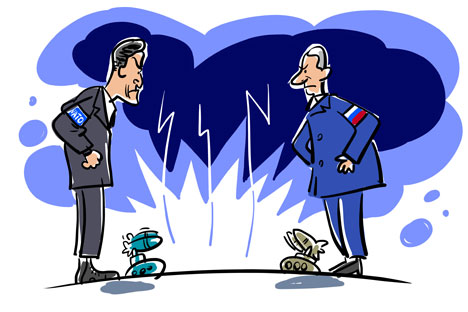 There is nothing strange in the fact that Russia has placed tactical missile complex Iskander on the borders of the European Union. It was bound to happen, political expert Fyodor Lukyanov says.
Drawing by Alexei Iorsh. Click to enlarge the image
Russian leaders have promised several times to set Iskander, it's tactical missile complex, on the boarders of the European Union in response to a European missile defense. So, it's no surprise that they are saying it again.
Discussion on European security is depressing. The world is changing: Europe is becoming a strategic periphery. There are serious contradictions in East Asia. Beijing's announcement that the East China Sea is the control zone of air defense has caused a tumult not just in the region.
The Korean peninsula is in constant tension and on high alert because of North Korea, whose missiles are aimed to South Korea. The influential uncle of the North Korean leader has been shot, and everyone is wondering what is going to happen now.
There is nothing to say about the Middle East, where at any hour the redrawing of borders will begin in Syria, Iraq, and then everywhere.
Against this background, Russia and NATO continue to frown at each other and exchange symbolic gestures. Let me suggest that even the most convinced hawks in the Pentagon or on Arbat Square cannot imagine that armed conflict will break out in Europe with the participation of the great powers.
And, incidentally, that is why they begin to act so quietly, not looking at the possible consequences: placing American missile defense system in Europe or answering to that step by installing missile systems along the responsibility zone of the Alliance. If it would be a real confrontation, they would think a hundred times whether it is risky or not.
Professional and military strategists tend to look to the past - they are preparing for war, which they know, and see the enemy, which they expect.
Russia does it at least honestly, while the United States does that camouflaging nostalgia for the Cold War by a mythical Iranian missile threat, which President Vladimir Putin mentioned in his annual address to the Federal Assembly.
But the global arena of the 21st century is in a different place, this time in the Pacific Ocean, which Putin also mentioned in his speech. So Iskanders are purely symbolic to threaten enemies, and real opportunities will increase in the Far East lest they forget Russia.
Fyodor Lukyanov, Chairman of the Council Presidium on Foreign and Defense Policy.
First published in Russian in Kommersant.
All rights reserved by Rossiyskaya Gazeta.