Can culture heal relations between Russia and Britain?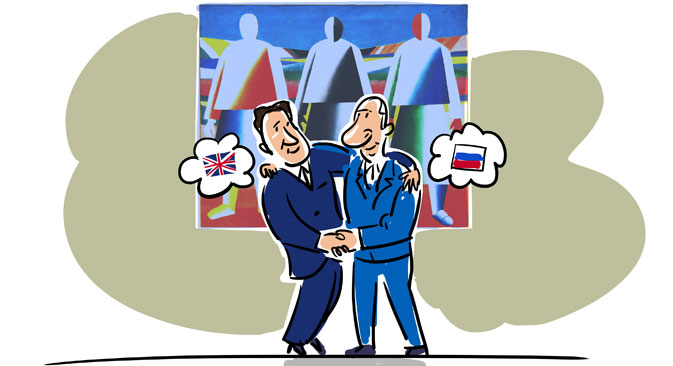 Ahead of the UK-Russia Year of Culture, the editor of Russian Art & Culture Theodora Clarke explains why Russo-British cooperation should focus on cultural exchange.
Click to enlarge the cartoon. Drawing by Alexey Iorsch
It would be an exaggeration to say that the upcoming UK-Russia Year of Culture 2014 marks a "reset" in relations between our two countries. However, it provides a platform from which to build stronger links between us. The last decade has seen relations between our two countries wax and wane. Accusations of espionage, the expulsion of diplomats, not to mention the highly charged case involving the death of Alexander Litvinenko, have all contributed to a frosty diplomatic climate. It was as recently as 2007 that the British Council was forced to close offices in Russia.
Yet more recently there have been improvements. Britain's Prime Minister David Cameron visited Moscow in 2011 with a delegation of 20 top businessmen and last year Cameron and Vladimir Putin watched judo together at the London Olympics.
However, to look for the success stories of co-operation between the UK and Russia, we need to return to the cultural sphere. I spoke at a conference this month at London's Asia House on the topic of cultural diplomacy in anticipation of the Year of Culture. Chaired by critic and broadcaster Andrew Graham-Dixon, the panel included John Holden, author of the report Influence and Attraction: Culture and the Race for Soft Power in the 21st Century; Kadri Liik, from the European Council on Foreign Relations; William MacDougall, director of a Russian auction house; and Gayane Umerova, a curator from Uzbekistan. The question we considered was whether culture really does make a contribution to international relations.
Andrew Graham Dixon voiced perhaps the most telling statement of the night: that cultural diplomacy is a place where people can meet when they can't agree on anything else. This statement may well hold true for the UK and Russia. The From Russia exhibition at the Royal Academy in 2008 took place during a particularly rocky period of relations. Russia was hesitant to lend art to the UK, fearing works could be seized due to their disputed ownership. The situation was eventually resolved by legislation protecting the works and the exhibition was exceptionally well received by the British public.
Governments can have a huge impact on cultural relations. A cultural co-operation agreement signed by Cameron and Medvedev, who was Russia's president at the time, resulted in a number of Russian cultural projects. Recent collaborations include one by Houghton Hall and the Hermitage Museum, where UK curators were allowed to bring works from Catherine the Great's collection that had not been seen in this country for generations.
The many organisations I have spoken to, who are all planning major cultural projects next year, all acknowledged the importance of building links with their Russian counterparts. The V&A has forged a strong relationship with fellow institutions, including the Bakhrushin Museum, and the Science Museum has been particularly successful in negotiating outstanding loans from the Russian Space Agency for a forthcoming exhibition. These loans would have been difficult, if not impossible, without the cultural year as an impetus and political will at the highest level. As tense as ordinary relations may be, especially in the shadow of the recent Greenpeace debacle, culture somehow always finds a way to break down barriers.
Last year's Olympics showed us how soft power can be used to maximum effect. The Games were the greatest advert for UK PLC that showed London at its best on televisions around the world. Russia will no doubt be hoping that the Winter Games in Sochi reap similar rewards.
So what does the UK and Russia stand to gain from this year of cultural exchange and will it have political repercussions? There is ample opportunity for cultural institutions to work together for the benefit of the public in both countries. Cultural exchange facilitates dialogue which results in greater understanding. By learning about each other's culture we can learn to respect each other.
We can all pick out famous Russians like Kandinsky, Dostoevsky, and Tchaikovsky, but culture is, of course, far more multifaceted than a handful of familiar names. As Kadri Liik explained, 'a living culture never exhausts itself. There are always new things to find'. Trust, the panel suggested, depends on understanding, primarily achieved on a cultural basis.
What ultimately will make the year a success are the personal relationships built between individuals and institutions. From museum curators to theatre directors, ballet stars to musicians, next year is a chance for the best of British creative talent to work alongside Russian colleagues. An unparalleled number of events are scheduled to take place and the British Council has devised a programme in Russia that showcases the very best of our unique culture.
I believe that the cultural year can act as a springboard for future co-operation. It is a chance to both identify our similarities and respect our differences. It is a valuable opportunity for Britain and Russia to gain a greater understanding as nations of each other's values and history.
Theodora Clarke is Director of Russian Art Week in London and Editor of Russian Art & Culture.
All rights reserved by Rossiyskaya Gazeta.