A Russia investor's wish list for 2014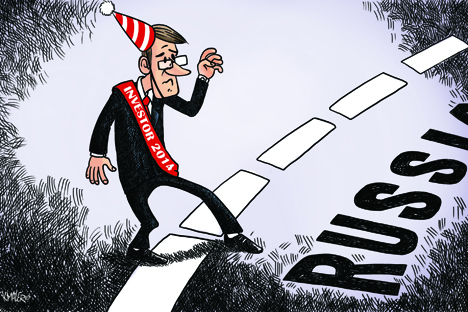 Lower rates and higher standards along with more transparency could attract more FDI this year.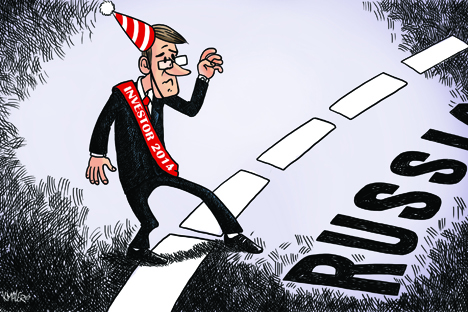 Click to enalrge the image. Drawing by Konstantin Maler
Russia suffered a poor economic performance in 2013 and the government is desperate to avoid a repeat in 2014. Realizing the goal of returning growth back towards the 3% level will require fiscal and monetary policy changes and faster progress with the reform agenda. With that in mind, an investor's wish list from the government for 2014 would include:
• Greater efficiency in budget spending, and a shift of resources towards growth-boosting projects and away from nonproductive areas such as defense spending;
• The initiation of cuts to the Central Bank's benchmark interest rate, and a big cut in the commercial bank's average lending rate to small businesses;
• An increase in infrastructure spending;
• Greater determination to meet OECD membership conditions, which means improving investors' perception of Russia, of risk and of the business environment;
• An improvement in corporate governance, especially among state-run companies.
Although already urgent, the debate over specific action is not expected to intensify until spring 2014. For the next two months, one policy priority will eclipse all others: delivering a controversy-free and efficient Winter Olympics.
Overall growth in 2013 is expected to be closer to 1.3 percent, instead of the over-3 percen rate achieved in 2012, even though a similar number was originally forecast for last year. The slump in growth has come despite the fact that the country boasts a very strong balance sheet with total sovereign debt at only 10% of GDP, the world's fourth largest financial reserves, and quite a modest budget deficit.
The problem is that confidence among consumers, business owners and investors is too low, while the average commercial bank lending rate, especially to consumers and small-to-medium-sized enterprises, is too high.
It is encouraging that President Vladimir Putin has finally acknowledged the cause of the current slump in growth is domestic policy failures, rather than contagion from the rest of the world. That is an important change of position. It suggests that Mr. Putin will now side more with those in government who demand fiscal and monetary policy changes.
So, what are the chances of the investor's wish list being realized?
On the issue of spending efficiency, the Duma recently passed a revised three-year budget, which still has far too much money allocated to defense equipment and to other "secret" and nonproductive areas. The basis for optimism that this may be revised to shift more resources to growth-boosting projects has recently improved, after President Putin acknowledged that current spending is inefficient and voiced support for changes.
The battle for lower interest rates will be tough. The Central Bank is opposed to any cuts in its benchmark rate so long as inflation is even close to the 6% level. Inflation has been rising again recently, and it is expected to end the year close to 6.5 percen. The president's economic advisor has recently demanded a rate cut as part of a growth stimulus package. This will likely be a key battle in the spring.
One traditional way to boost economic activity is to invest in infrastructure. Russia clearly needs to expand and modernize a lot of infrastructure, and the catalyst may come with the start of preparations for the 2018 FIFA World Cup, to be hosted in 11 Russian cities. The state has agreed to make money available from the National Welfare Fund.
OECD membership is an important goal. To qualify, Russia will need to demonstrate much greater progress in reducing corruption and bureaucracy, as well as improving the rule of law. The Kremlin has made membership a key priority for the next couple of years.
Poor standards in corporate governance are among the main reasons why the risk premium in many state companies is so high. But it does seem that the message of higher standards leading to better valuations is finally getting through to the state – and to controlling shareholders.
Chris Weafer is a senior partner at Macro Advisory, a Moscow-based research consultancy.
All rights reserved by Rossiyskaya Gazeta.