A gay Russian-American examines Sochi protest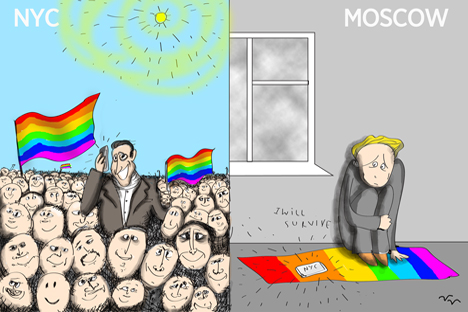 A Russian-American LGBT activist gives his thoughts on the controversy over Russia's anti-gay propaganda law.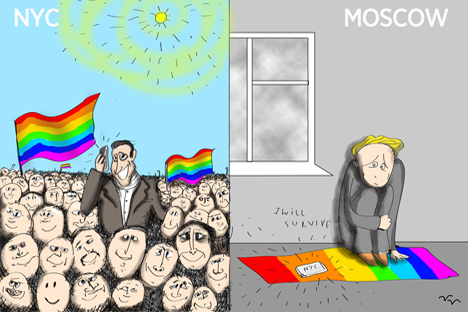 Click to enlarge the cartoon. Drawing by Niyaz Karim
Undoubtedly, the year 2013 was marked by an unprecedented level of attention to the situation of LGBT individuals in the Russian Federation. For most of us who followed the story, two major factors were at play: the signing of the law by Russian President Vladimir Putin banning the so-called "gay propaganda" to minors and the upcoming Winter Olympic Games in the city of Sochi.
LGBT activists in the United States and Western Europe launched loud and aggressive campaigns to boycott the Games and Russian products, of which the most prominent was the Russian vodka boycott that got the Stolichnaya brand into some hot public relations waters. The media – online and print – showed a voracious appetite for "Russia-Putin-gay propaganda-vodka-Sochi" hashtag. I think it is high time to ask ourselves what this rainbow tornado of remonstration has really achieved. Just the opposite of what it has purported to, I'd say.
A few sharp voices stated loudly that the "gay propaganda" law is nothing but a public relations campaign by the Kremlin to distract and divert attention from Russia's many true crises: stagnant economy, corruption, unlawful imprisonment and torture in detention, prisoners of conscience, an epic demographic catastrophe unfolding outside of major urban areas, with rates of HIV infection and illegal drug abuse climbing the record numbers.
An almost exclusive focus on "gay propaganda" law in Russia by activists is an imprudent mistake that makes the Kremlin's strategy an ultimate success. While there is no doubt that the law in question is vague and wrong, it is hardly the main reason to critique the sociopolitical climate in Russia. And while we may be having some quality community time dumping Russian vodka in the streets of the relatively tolerant city of New York, many LGBT Russians who stayed home consider our actions absurd, if not outright treacherous.
During the winter holidays, I spoke on Skype with a friend who resides in Moscow with his boyfriend of five years. They are a successful gay couple – good jobs, a spacious apartment within the Garden Ring, foreign vacations each year, a spaniel of proper pedigree. My friend is out to his family, friends and colleagues. He is no activist, but then again not everyone should be. He told me that he and his friends and colleagues are frustrated that Russian gays in the U.S. try to disrupt the Olympics that Russia waited so long to host.
Strategic state-sponsored homophobia is no Russian invention. I immigrated to the United States in 2004 when President George W. Bush and his party were trying to push for an amendment to the U.S. Constitution to ban same-sex marriages in an attempt to distract the public's attention from a disastrous war in Iraq and looming financial meltdown.
A number of African nations passed draconian anti-gay laws, which in comparison with Russia's "gay propaganda" law make Moscow and Saint Petersburg look like magic lands of rainbows and unicorns. Yet I have not seen one public protest in New York against Nigerian, Ugandan, or Malawian officials (or Saudi Arabia where consensual homosexual acts between adults are punishable by execution).
A poisonous cocktail of ignorance and double standards has thus produced a narrow, exclusive, and not so meaningful discourse, a cornucopia of trending hash tags, yet hardly a profound statement about rights and liberties of those who remain in Russia, gay or straight.
Ivan Savvine, raised in St. Petersburg, is a New York City-based art historian, writer and curator. He moved to the U.S. in 2004 and was granted asylum in 2006.
All rights reserved by Rossiyskaya Gazeta.