Cultural pageant allows British to meet Russians on home soil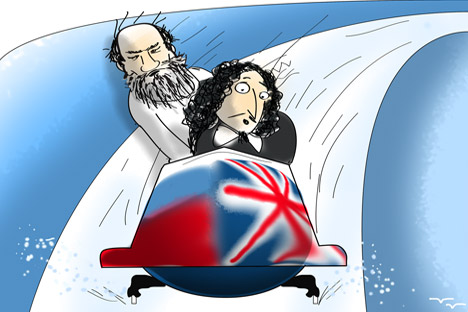 The Russian Ambassador to the United Kingdom Alexander Yakovenko explains why the UK-Russia Year of Culture is so important for both nations.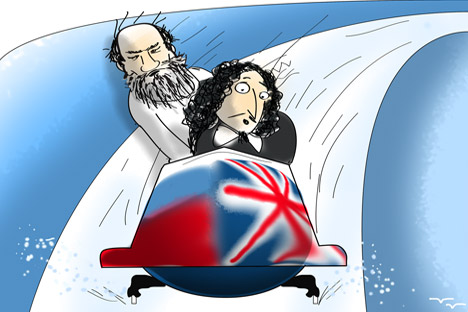 Click to enlarge the cartoon. Drawing by Niyaz Karim
Two weeks ago, an estimated three billion people around the world tuned in to watch the opening ceremony of the Sochi Olympic Winter Games. Like Danny Boyle's acclaimed ceremony for London 2012, our event gave a whistle-stop tour through our nation's proud history and culture, albeit with a little less British humour. The popularity and indeed scrutiny of these events is a powerful reminder of the importance of culture and history in shaping both a country's own national identity and its understanding and appreciation in the international community.
The UK and Russia are nations that have both been blessed with rich cultural heritages, with great artists, composers, writers and performers known throughout the world. And alongside this history, we also have vibrant contemporary cultures, which is why I am delighted that this year, starting on February 24, has been designated the first UK-Russia Year of Culture.
Organised by the Russian Ministry of Foreign Affairs and the British Council, the scope of the festival is ambitious: more than 50 major events will take place across the UK alone. But what does this blaze of culture mean for the two countries? Relations between our two great countries do not always run smoothly and we would be mistaken to think that a cultural festival such as this is the answer to all the challenges we face. I do, however, believe that it signals a way in which relations can be reinvigorated, refreshed and revived.
This is important because there are many things that we share culturally. But it is equally important because it helps us recognise and appreciate our differences in a way that builds understanding about each other as well as ourselves. I think this can manifest itself in two important ways. Cultural linkages and connections lead to more creativity. From Shakespeare to Dostoevsky, Pushkin to Dickens, the Tudors to the Romanovs, Wren to Thon, great artists, architects and writers and statesmen have enriched the dialogue between our countries. This cultural interaction and sharing helps us question the simplistic stereotypes that programmes such as the Fox series, Meet the Russians, all too easily shape.
The second important factor is that cultural linkages lead to better business and trade ties, too. In recent years, Russia has become an increasingly important trading partner for the UK. The country is the UK's fastest growing export market, and in 2012 British exports to Russia increased by 15pc, reaching £5.5bn. With trade comes cultural interaction. Deeper cultural links are the vital grease that oils the cogs; without it the great potential for further business growth could be missed.
And we should not forget the importance of the creative industries to the economies in both our countries. In the UK, the sector is one of the fastest growing industries, contributing 6pc of GDP and employing more than two million people.
In Russia, cultural and creative arts hubs in St Petersburg and Moscow are gaining momentum and filtering into the fabric of these celebrated cities. Greater cultural ties between our countries have the potential to be a catalyst for more growth and collaboration in these sectors, too.
In a year when we have opened our country up to the world through the Sochi Winter Games, I hope that by building our cultural and creative links through this cultural Olympiad, our nations will find further understanding, new opportunities and greater awareness of what brings us together rather than what divides. This can be the legacy of the UK-Russia year of Culture, and I cannot wait for it to start.
Alexander Yakovenko is Russian Ambassador to the United Kingdom. He was previously Deputy Minister of Foreign Affairs.
For more information about UK-Russia Year of Culture visit The Kompass, special RBTH section for all UK-Russian cultural events

All rights reserved by Rossiyskaya Gazeta.