UK ambassador: Russia counts on diplomatic resolution in Ukraine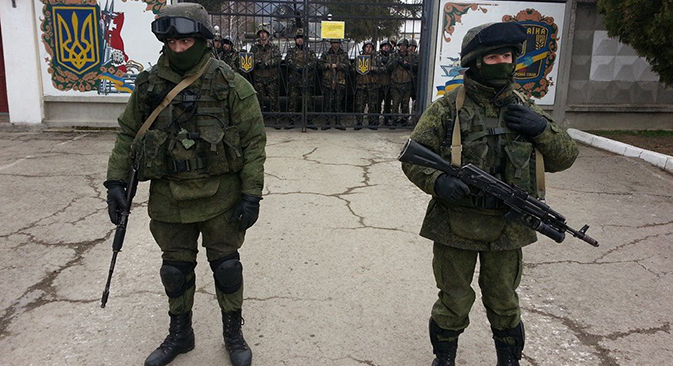 Mr Yakovenko complained in his post that numerous calls by Russian authorities aimed at de-escalating the situation have been futile and that the West blamed and threatened Russia "rather than calling upon the ostensibly pro-Western "authorities" in Kiev to de-escalate tensions". Source: Ricardo Marquina / RBTH
Russian Ambassador to the UK Alexander Yakovenko recently published a post in which he outlined Moscow's position toward the crisis in Ukraine.
Mr Yakovenko pointed out that the situation in Ukraine deteriorated rapidly because the agreement reached on February 21 had been scrapped by opposition leaders, while external mediators, namely the Foreign Ministers of Germany, France and Poland, did not lift a finger to save it.
According to Mr Yakovenko, "political power in Kiev has been concentrated in the hands of far-right extremist elements that do not hide their xenophobic, anti-Semitic, neofascist credentials". He mentioned the leader of the "Right Sector" Dmitry Yarosh, who openly called for an alliance with Doku Umarov, the most-wanted leader of the Chechen terrorists with close links to Al Qaeda. Yarosh has since denied the accusation and claimed that his website was hacked.
Moscow accuses the new authorities in Kiev of "a widespread campaign of intimidation of ethnic Russian population" and is especially concerned with the situation in the Crimea where "rallies erupted to express protest against with the way the Kiev events had unfolded". "The Crimeans were accused of separatism and were threatened with force", stressed Yakovenko who also mentioned aggressive actions taken by "unknown armed men sent from Kiev".
The Ambassador insisted that all movements of troops of the Russian Black Sea Fleet were only "a precautionary measure taken in full compliance with the relevant bilateral agreements with Ukraine while Prime Minister of Crimea Sergey Aksenov appealed to the Russian authorities for assistance in maintaining peace and accord in the peninsula".
Mr Yakovenko complained in his post that numerous calls by Russian authorities aimed at de-escalating the situation have been futile and that the West blamed and threatened Russia "rather than calling upon the ostensibly pro-Western "authorities" in Kiev to de-escalate tensions".
Russian authorities see a "threat to the lives of Russian nationals and our compatriots, as well as the Black Sea Fleet personnel" and call the approval of the Federation Council for use of the Russian troops in Ukraine the logical step. Yet "that doesn't mean that the President will use his powers immediately", wrote Yakovenko.
"Russia remains open to cooperation with all partners in order to seek a political solution to the crisis. What is needed is a clear understanding that this cooperation is honest and based not simply on the ability to hold fruitful negotiations but also on the ability to comply with agreements that take account of the interests of the entire Ukrainian people and all partners of Ukraine", concluded the ambassador.
Alexander Yakovenko is Russian Ambassador to the United Kingdom. He was previously Deputy Minister of Foreign Affairs.
Source: www.rusemb.org.uk
Read more about the current situation in Ukraine

All rights reserved by Rossiyskaya Gazeta.