What Boney M, Modern Talking and Al Bano have in common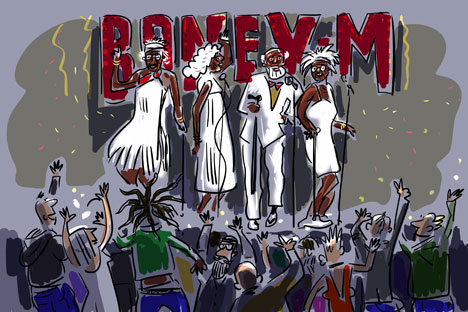 Don't call these acts washed up – they still sell out stadiums in Russia.
Drawing by Alexei Iorsh. Click to enlarge the image
Russian fans have been filling enormous concert halls for many years now in order to hear musicians whose names would make any foreigner ask: "Are they really still alive?"
Names like Boney M and Bad Boys Blue, Modern Talking and Didier Marouani, Al Bano and Bonnie Tyler. Each year a multi-hour music festival is held in the Olympiyskiy Stadium called the Disco of the 80's and usually all these celebrities perform.
Boney M - Rasputin Live at the Disco 80's in Moscow. Source: YouTube
Western pop music fans would be surprised that Russians are still buying tickets to hear the 1984 smash-hit "Forever Young" from Marian Gold, leader of the German band Alphaville, but Russians themselves have a different perception.
Last year, concerts by Slade, Bonnie Tyler and Deep Purple were all a great success. And this is despite the fact that Slade doesn't have the golden voice of Noddy Holder anymore, and Deep Purple no longer plays the tunes of Ritchie Blackmore and Jon Lord.
They have strong ties in Russia. Somebody has real estate in Moscow. Bonnie Tyler's godson lives here. Deep Purple is respected by Prime Minister Dmitry Medvedev. Several years ago I interviewed Deep Purple's lead singer, Ian Gillan, and asked him point-blank what he thinks about the fact that in Brazil and Russia his group is able to gather whole stadiums, whereas in the UK they play only small clubs.
To my surprise, Gillian said: "That's great! We move from stadiums to clubs, then to theaters, then back to the stadiums. Everything has its advantages. At least we don't get bored."
As for Italian singer and songwriter Toto Cutugno, an indispensable part of nostalgic concerts and festivals, he is surprised that in Russia he is perceived as a solo artist: "You know, in Europe, I am still better known as a songwriter," said Cutugno, who is the man behind Joe Dassin's megahits Et si tu n'existais pas, Salut and L'ete Indien.
In Russia, Cutugno is, first of all, L'italiano vero (Real Italian) – his number one hit, the chorus of which, Lasciatemi cantare (Let me sing), can be sung by any Russian.
The French say of their artists "Once a star – always star," and although being outdated in France, Patricia Kaas is nevertheless still a hit in Russia. She performs in Moscow almost every year.
New artists and popular singers do visit Moscow, but their popularity cannot be compared to that of the disco and pop-veterans of the 1980s. The reason for this is rooted in the Soviet era, when listening to this kind of music was a symbolic act bigger than the music itself.
It is no secret that Russians were unable to listen to Western pop stars for a long time and listening to Western rock was regarded as treason. For half a century, rock music was forbidden fruit.
Nevertheless, Russians listened to western rock and pop music, which was openly smuggled into the Soviet Union by sailors, athletes, diplomats and artists and then copied onto tapes hundreds of times.
This resulted in a rock pantheon that differs from that oft the UK and the United States. The Beatles, for example, are loved in Russia, but the Rolling Stones are not. Russians also embrace Slade, Sweet and Joe Cocker.
It is completely irrelevant that these artists haven't produced any hits since the 1970s; it doesn't matter that nobody remembers any Italian disco stars like Ricchi e Poveri, Al Bano and Romina Power. It is as if the Austrian band Joy or German band Modern Talking were created specifically for the Soviet Union.
It is no coincidence that Modern Talking leader Dieter Bohlen wrote an autobiography pretentiously named Nichts als die Wahrheit (Nothing but the Truth) which starts with the fact that his beloved grandmother was in fact Russian.
The author is a music critic and a columnist for Vash Dosug magazine.
All rights reserved by Rossiyskaya Gazeta.