Russian oil: Are low share prices justified by the fundamentals?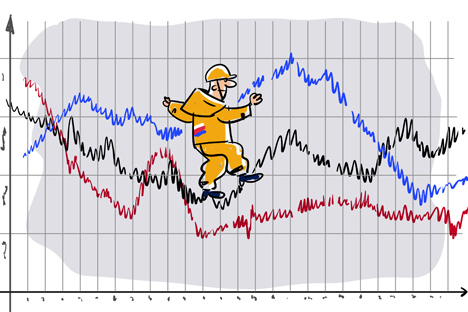 The Western investor has a false stereotype that foreign companies will benefit more from the development of new fields in Russia than Russian firms. At the moment, this view cannot be said to have been confirmed.
Drawing by Alexei Yorsh. Click to enlarge the image.
Despite high oil prices, the market assessment of Russian oil companies is at an unprecedented low. Russian oil firms' median price-to-equity ratio (a measure of value) for 2013 was a ridiculous 4.1. Their valuation according to another common metric (the EV/EBITDA ratio) for 2013 was 2.8. For their foreign counterparts, these figures are 2-3 times higher. How much this assessment may be justified is a question that still concerns investors.
The discount clearly has some substantive grounds. These include political risks, a higher tax burden, the depletion of the resource base, high capital intensity, a reluctance to share profits and non-transparent spending habits.
According to our estimates, depending on the specific companies, the current discount is about 50-70% due to fundamental factors – primarily lower dividends, non-transparent investment and tax risks. The remaining discount is due to political factors and biases on behalf of the investment community, and could be offset in the medium term. As a result, in our opinion, Russian companies are currently undervalued on average 25-30%.
The tax burden on Russian oil companies really is one of the highest in the world. However, this difference is fully accounted for in the P/E multiplier, and the EV/EBITDA multiplier can be adjusted only for taxes on profits, which in Russia are not actually that high. Therefore, if taxes are the problem, then the discount must be due to fears of a further increase in the tax burden. However, in our opinion this is rather unlikely.
The market still believes Russian companies have a depleted resource base and high capital intensity, which is partly justified. But in recent years the situation has improved. Most public companies demonstrate positive production dynamics no worse than their foreign competitors. The peak of the investment cycle for the majority of Russian companies will be over in the next 2-3 years, after which the investment will be reduced significantly.
Nevertheless, in our opinion, spending levels are an important factor, especially in state-owned companies, where capital spending transparency is poor and companies often behave as if they have a goal of utilizing their entire free cash flow.
But many of the companies in the sector continue to maintain steady positive cash flow. Dividend payments at Russian companies are not tied to cash flow and do not formally depend on the amount of their capital expenditure.
Low dividend payouts are an important and obvious factor. Most Russian companies pay dividends regularly, remitting 15-30% of net income to shareholders. This is significantly less than companies from developed countries pay (on average 40-70%). The difference in the dividend policy can therefore account for a significant difference in the multipliers to similar companies from developed countries. However, many companies are increasing payments, including state companies. Therefore the discount should be reduced in the future.
The Western investor has a false stereotype that foreign companies will benefit more from the development of new fields in Russia than Russian firms. At the moment, this view cannot be said to have been confirmed. All major joint projects in new fields are still being developed according to the following principle: the Russian company brings a license into the joint venture and gets a controlling share. The foreign partner contributes money and technology, and often a share of their other projects in return. Therefore, despite the possibly lower tax burden, in fact the foreign companies bear the main financial costs and the key risks associated with the project in its initial phase. Any such partnership is therefore a value-adding default for Russian companies, while the economics of these projects for foreign firms is not always obvious.
Ilya Balakirev is a chief analyst at UFS Investment Company in Moscow.
All rights reserved by Rossiyskaya Gazeta.